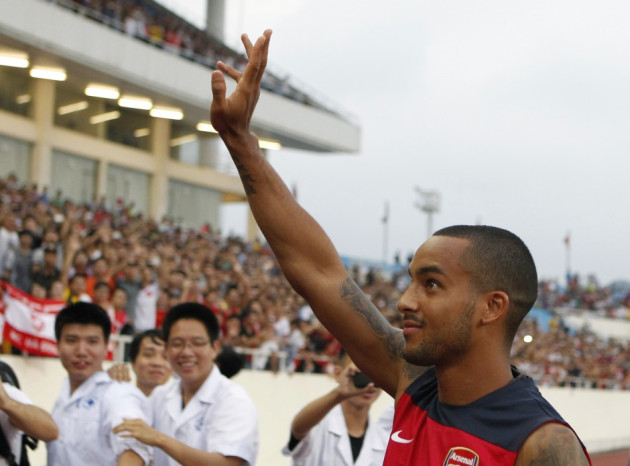 Arsenal winger Theo Walcott believes the club's challenge for the Premier League title is not dependent on the signing of new players in the transfer window.
The Gunners have added just Yaya Sanogo to their squad ahead of the new season, despite being linked with Real Madrid forward Gonzalo Higuain and submitting two offers for Liverpool's Luis Suarez.
After going on an 11-match unbeaten run at the end of the season, which started with victory over European champions Bayern Munich and ended with a win at Newcastle United which secured top tier European football for a 16th consecutive campaign, Walcott has been encouraged ahead of Arsenal's attempts to land a first major trophy since 2005.
And the England international feels the current Arsenal squad is strong enough to pursue the league title this season, with Manchester United, Manchester City and Chelsea having all undergone substantial changes this summer.
"The teams that finished above us have changed their managers," Walcott said. "We've still got ours.
"It's always going to be tough. Every game in the Premier League is very tough and very interesting. It always comes down to the last few games. So we need to believe in ourselves.
"The way we ended the season last year, 11 games undefeated - we need to do it from the start, which I believe we can.
"The manager shows so much belief in us in every single game so we need to step up and I think we've got a very good chance of challenging this season.
"I got 21 goals last season and I want to try and push on from there. I want to try and get to 25. That's my benchmark but I believe in myself and that's the main thing.
"Time will tell if players come in or not but we just work with the squad we've got at the moment. Come the start of the season, there could be changes. We know it's a very long campaign but we're all very excited about our prospects.
"Instead of challenging for the Champions League, we need to be challenging for the title this year - that's my desire anyway, I'm sure everyone else is the same," the 23 year old added.
"If players come in it's going to boost the whole team, but what we've got at the moment is good enough to win anything, I believe.
"We are ready for the challenge, everyone's definitely committed."
Arsenal continue their preparations for the new term as they become the first Premier League side to play a friendly in Vietnam in their second pre-season fixture of the summer.