Walmart is a Ruthless Corporate Monster - but it's Not too Big to Fall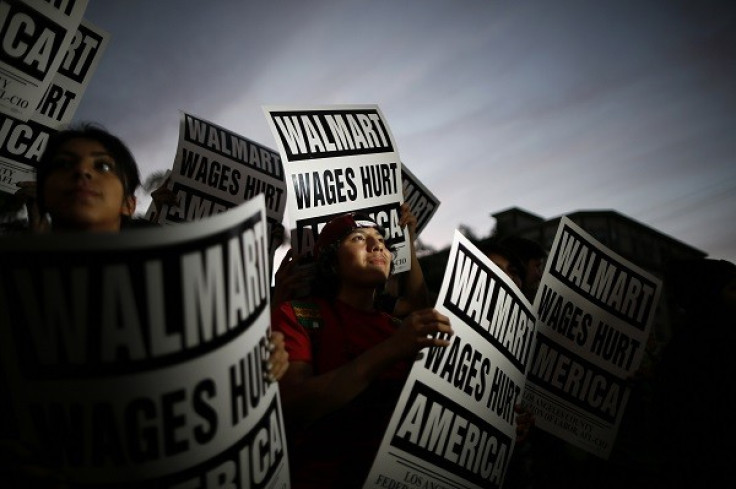 Walmart is the world's biggest private sector employer. It is a corporate behemoth with 8,500 stores using 55 different banners in 15 countries. With close to 2.2 million employees worldwide, it has developed a reputation for low wages, poor working conditions, inadequate health care, strong anti-union policies and the evasion of collective health and safety procedures.
It is also a major beneficiary of state largesse - in the US, 18% of food stamp dollars go to Walmart, which is ironic considering that many of its workers are so poorly paid they qualify for state assistance.
There is a litany of countries where Walmart and its subsidiaries are embroiled in scandal after scandal. There's something going badly wrong here: a culture of unrivalled corporate arrogance. This culture is having a profound impact on companies which struggle to compete as Walmart storms ahead with its cut at all costs philosophy.
In November 2012 there was a fire at the Tazreen Fashion factory in Bangladesh. A total 112 workers were killed, all of whom were making clothes for European and North American retailers. Walmart refused to pay compensation and take responsibility for the terrible conditions in their supply chain. Fast forward to the Rana Plaza disaster in April 2013 with 1,200 lives lost and thousands more devastated. We have an action replay.
In an effort to substantially improve health and safety procedures, the AccordonFireandBuildingSafety was signed between the UNI and IndustriAll global unions. The compact, which encompasses more than 100 global fashion brands and NGOs, helps to provide assurances that the commitments to inspect and improve garment factories will be carried out. Yet Walmart, along with Gap, has developed a separate initiative with minimal enforceability and transparency which is a pale imitation of the Accord.
In its race to the bottom credo, Walmart/Massmart in South Africa had to recall a Chinese manufactured Mastercraft hydraulic jack. More than half of the 13,400 defective jacks had already been sold at Makro, Builders Warehouse and Builders Express. Such poor-quality products were sourced from low-paid, highly exploited and cheap labour with minimal concern for the conditions of workers at the supply end as Walmart drives costs down to increase its profits. Labour rights activists in South Africa are highlighting that such incidents could become the norm as the corporation seeks to import more products from cheap labour sources.
In a further stain on the corporation's image, Walmart recently announced that it had indefinitely delayed its plans to open hundreds of stores in India. The Indian authorities are investigating if it violated foreign investment rules by giving its Indian subsidiary - Bharti Retail - an interest-free loan of $100 million that could later be converted into a controlling stake in the company. The joint venture also led to several senior executives being suspended as part of an internal bribery investigation.
The Indian case is one of a series of scandals that have rocked Walmart's international operations but none more so than in Mexico. The corporation is the country's largest private employer with 221,000 people working in 2,275 stores, supermarkets and restaurants. In evidence collected by the New York Times it shows $24 million was spent to implement Walmart's strategy in Mexico leading to the alleged payment by company representatives to build a store near on the Teotihuacán ancient heritage site. It has now taken a $157 million charge in its 2013 fiscal year for the ongoing probe.
Despite the perception that this corporation is too big to challenge, workers are fighting back. The latest protests - particularly those organised around Black Friday -in the United States are part of a strategy leading up to the traditional holiday shopping season highlighting the corporate arrogance of Walmart. It is coordinated by OUR Walmart, the Organization United for Respect at Walmart, a group for and by Walmart workers.
The significance of these events cannot be understated because in October last year workers went on a one-day stoppage in Los Angeles for the first time, despite not being protected by a trade union. The spark led to workers in a dozen other cities walking off in protest. The workers are demanding a living wage and an environment free from fear.
Walmart CEO Bill Simon disclosed in a presentation that up to 825,000 Walmart workers in the United States earn less than $25,000 despite the corporation registering a $17 billion profit last year. The founding Walton family's fortune equals the wealth of the bottom 42 per cent of American families. Surely the easiest way to "help people live better" and to help consumers spend not only in the United States but around the world is to pay them properly as the CEO of rival retailer Costco argues. This is the strategy to help our global economy grow and that's why we should all be concerned about Walmart's ruthless pursuit to the bottom.
Andrew Brady is a founder of Union Solidarity International (USI), an organisation supported by major UK, Irish and trade unions in countries such as Brazil, Greece, Austria, North America, Europe, South Africa and Australia that aims to build grassroots international union solidarity. Visit http://usilive.org or follow onTwitter @USILive.

© Copyright IBTimes 2023. All rights reserved.