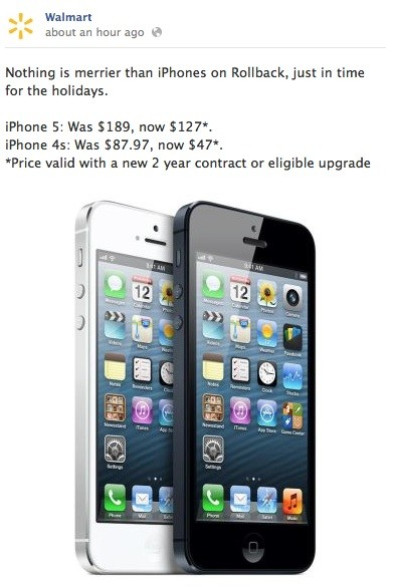 Walmart in the United States has cut the price of Apple's iPhone 5, iPhone 4S and iPad 3 for the festive season. Target has also joined the festive party by offering Virgin Mobile's Prepaid 16GB iPhone 4S at £247 ($399.99) after a special discount of £31 ($50) starting 16 December.
Walmart is now offering the 16GB iPhone 5 for £79 ($127), iPhone 4S gets a price cut from £56 ($89.97) to £29 ($47) and the third-gen iPad (Wi-Fi) now sells at £247 ($399). The global retailer further announced that the iPad deal includes a bonus £19 ($30) iTunes card offer starting 17 December, while the special discounts will be valid for in-store purchases only. Walmart's UK arm, Asda, does not offer Apple products on its mobile service.
"Walmart works closely with Apple to secure some of the strongest allocations of their products. That being said, inventory is a first come first serve basis so we recommend customers come early to secure their Apple product. We will not offer rain checks but customers should know we will be refreshing our inventory on an ongoing basis," Walmart spokeswoman Sarah Spencer said in a statement to MacRumours.
Discrepancies with the Original Deal Announcement by Walmart
In related news, 9To5Mac reports multiple corrections made by the Walmart's PR agency to its original announcement. The iPad 3 was earlier proposed to go on sale from 17 December at £247 ($399). However, a further correction suggested the deal would be valid from 15 December for fourth-gen iPad (iPad 4) only. Finally, the latest update from the PR agency corrected earlier claims that the £247 ($399) deal is for iPad 3 and not iPad 4.
The phone deals offered by Walmart and Target seem to be attractive, but come with contracts. Those who want the freedom and are willing to shell out the extra money can grab the retail versions such as Virgin Mobile's prepaid 16GB iPhone 4S from Target at £247 ($399.99).