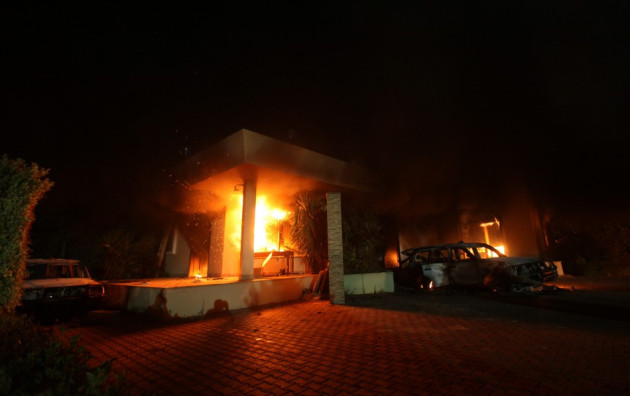 The US has dispatched two warships loaded with missiles and a marine team to Libya to bolster security at its missions and protect its personnel following the attack on the US consulate in Benghazi.
The US administration has moved two US warships, USS Laboon and USS McFaul, equipped with Tomahawk missiles to the Libyan coast, CNN reported, quoting US officials.
"These ships will give the administration flexibility," said the official.
Additionally, a 50-member team of marines has flown from its European base to Libya.
The decision came following the death of American ambassador Christopher Stevens and State Department employee Sean Smith as angry protesters stormed the embassy building in protest against an anti-Islam film. Two other staff members also died in the attack.
Barack Obama has ordered beefing up of security at all US diplomatic posts across the globe.
"I have directed my administration to provide all necessary resources to support the security of our personnel in Libya, and to increase security at our diplomatic posts around the globe."
Though the Pentagon refused to officially confirm the troop movement, the Department of Defence is working closely with the White House and State Department to ensure the security of its personnel in Libya.
"The Fleet's Anti-terrorism Security Teams (FAST) that we deploy when requested are responsible for the protection of embassy personnel and property, and they also play a role in the evacuation of personnel, as required," said a senior official at the Obama administration on condition of anonymity.
"Whether or not US military personnel will be involved in future operations to track down the perpetrators of this attack, I'm simply not going to speculate on what may or may not be in the works in the future."
The US administration is considering the attack as a "planned, co-ordinated, well-executed military style event."
The US is investigating the involvement of organised militant groups such as Ansar al-Sharia and the al Qaida's North Africa unit, al-Qaida in the Islamic Maghreb, in what the White House described as a "complex" attack.