Kalashnikov, the Russian weapons manufacturer and creator of the famous AK-47 rifle, has developed an all-electric motorbike which is set to be used by the country's police and military. It will be deployed in Russia during the Fifa World Cup next year for security-related tasks.
According to a report by Kalashnikov, the bike has a range of 150km and is equipped with a 15kW motor. Kalashnikov will be delivering a batch of 50 bikes to the police next year. The bikes will also eventually be used at nature parks and reserves, says the report.
The electric bike is essentially a zero-emissions vehicle and can be used to protect the "ecological state" of cities, says the report.
The company has put out images of two versions of the motorbike – one for the military and the other for the police. There are no striking differences between the two apart from the paint job and a few accessories.
The military one is painted in brown camouflage colour, while the police version is white and blue. The military variant also includes a gun saddle on the handle bars, which is missing on the police trim.
Manufactured by a Kalashnikov subsidiary called IZH, the bike might also be capable of light off-roading, as demonstrated by a video released by the company.
Apart from the range figures, there is not much information on the bike's power, top speed, torque and battery capacity. The video, however, does show a long charging cable that is stowed away in cases placed on either side of the vehicle, which also seem to be carrying the batteries. It is not clear whether these batteries are range extenders or the primary packs.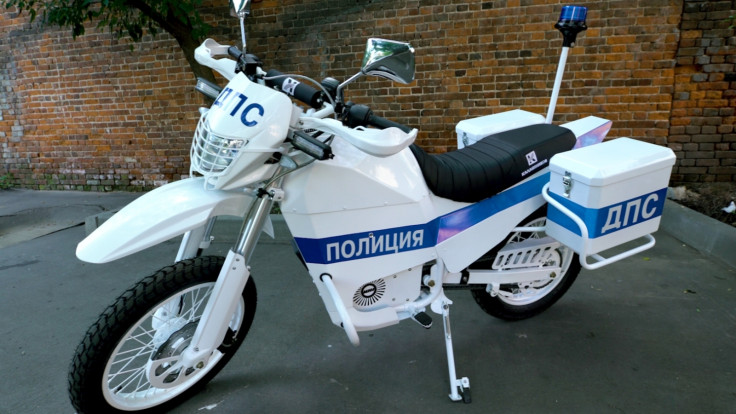 A report by Jalopnik notes that while there is not much information about this bike, it cannot be completely written off as a gimmick because Kalashnikov has a superb track record. The AK-47 rifle manufactured by the company is known to be one of the most reliable and efficient guns ever made.
Only last month, a report about a flying car built by the same company made news. It was an unfinished prototype, but it also had electric motors powering it.
Electric vehicles like these could be of great use in the battlefield, notes Popular Mechanics, since they are stealthy, have low heat signatures and are usually easy to manoeuvre.
The US military, along with the Defense Advanced Research Projects Agency (Darpa), is also working on a similar electric motorbike called the Alta Redshift MX, which has a reported range of 273km on a single charge.