Automobile manufacturer Nissan has done something unique to promote the latest Gran Turismo video game series. Recently, one of the company's racers took a modified a GT-R for a few laps around the Silverstone Circuit by using only a standard PS4 controller.
The car was modified in such a way that it had hydraulic systems and robotic arms that were operable through a PS4 controller. The driver of the car was Nismo racing's Jann Mardenborough, a professional racing driver as well as a gamer who has a lot of experience with the Gran Turismo games, says the video put out by Nissan.
With four robots, each handling the transmission, steering, brakes and throttle separately, the driver was able to manoeuvre the vehicle through the various bends and turns on the track through a dual shock PS4 controller. The wireless controller was not modified in any way according to a Mashable report, but the range was extended to reach the car from a kilometre away. Since the controller did not have progressive acceleration or braking capacity, a few mm push of the buttons is enough to "unleash the GT-R's full power", wrote Nissan in a description.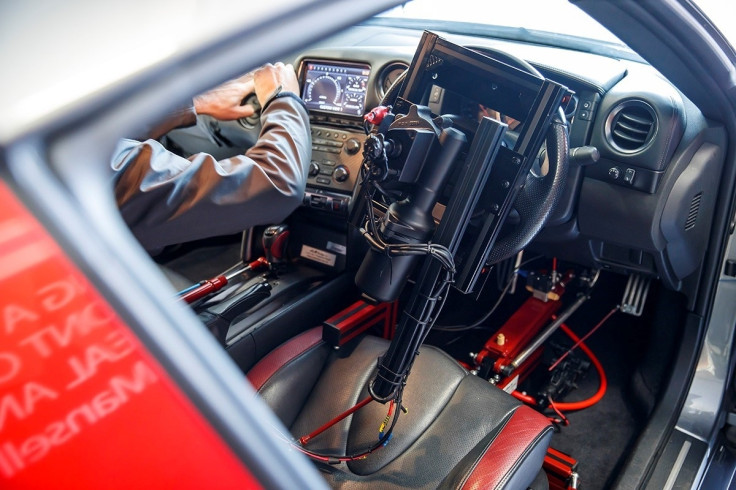 To keep the RC Godzilla always within sight of the driver, he was placed in a helicopter hovering over the racetrack. A number of videos released by Nissan and Sony show the extent of accuracy and precision that the makers of this car put into creating it.
Mardenborough was able to reach a top speed of 211 kph, says the report, and recorded a lap time of 1:17:47 with an average speed of 122 kph. In a description by Nissan, they said that the car's top speed was not restricted and could do its full 315 kph top speed. The driven average speed for the 2.6 km loop circuit was around 134kph, Nissan said.
For safety purpose, there were two independent controllers working on different radio frequencies that could cut off the engine or apply emergency brakes if needed, the Mashable report said.
After the promotional for Gran Turismo is completed, the car will tour the UK, visiting schools and encourage children to take up STEM (science, technology, engineering and mathematics) education says the report.
Watch the video here: