London Mayor Boris Johnson conjured up images of Molotov cocktails, burning buildings and dead police officers as he was questioned on plans to bring water cannon to London's streets.
Johnson, who was being quizzed by the London Assembly Police and Crime committee, defended the scheme to put "huge nozzles" in the hands of the Metropolitan Police – like in Northern Ireland.
He admitted the idea was formulated following the London riots in 2011, which saw violence and looting by mobs bring terror to the capital city. Using water cannon could save lives by dispersing crowds preventing further serious disorder, he claimed.
However, using water cannon to control crowds is a controversial proposal. It was described as "policing by fear" and the "thin end of the wedge" by committee member Jeanette Arnold.
Johnson said: "I don't want to see police retreating behind huge nozzles, but I do want to see the police having the ability when lives could be saved or injury avoided. It would be remiss not to have that. It might be part of the answer in certain circumstances."
Police in London already have a range of techniques for dealing with extreme situations involving large crowds, such as horse and baton charges. Johnson said water cannon sat "in the middle of the range" of capabilities. He insisted water cannon would be only be used "vanishingly rarely."
"On 99.9% of occasions it would be inappropriate and I can't imagine it will be on the streets any time soon, but you've got to keep it in reserve," said Johnson.
"If there's a situation calling for water cannon it will be when loads of people are throwing petrol bombs."
He also mentioned situations where buildings might be burning or when police officers were losing their lives.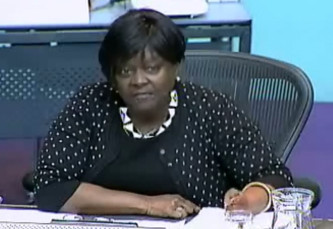 Labour member Jennette Arnold accused the mayor of having already made up his mind on deploying water cannon, despite an ongoing public consultation on the issue. She also cast doubt on polls showing public support for water cannon, saying they were cast in the aftermath of the 2011 riots when tensions were running high.
Steps to bring water cannon to London's streets are already beyond the talking stage, with the police having applied to home secretary Theresa May, pending the result of a public consultation.
Opponents of the measure claimed Johnson was parroting the idea which was actually the Metropolitan Police Commissioner's, Sir Bernard Hogan-Howe.
In Northern Ireland water cannon has been deployed around 50 times in the past five years. Under the scheme in London, the mayor would be consulted on each use by police.