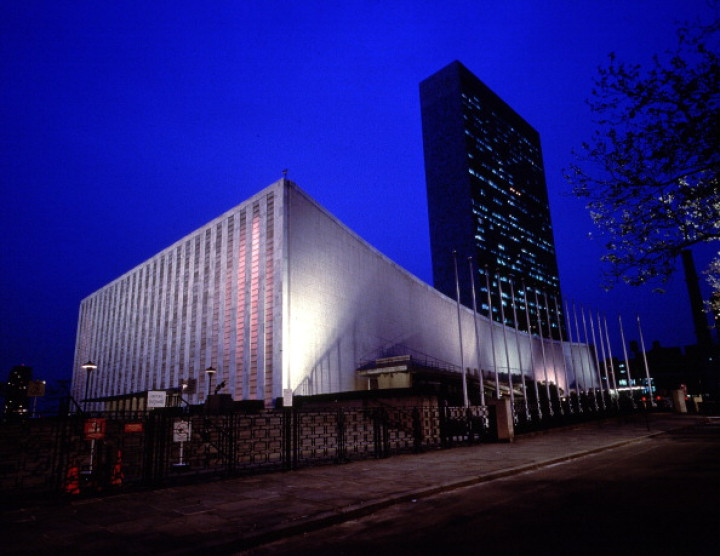 More than 200 of the world's most iconic landmarks will be lit blue on Friday (24 October) to mark the 70th birthday of the United Nations (UN). The campaign named 'Turn the World UN Blue' will kick off in New Zealand and then Australia with the lighting of the Sydney Opera House at dusk, after which the wave of UN blue will move across countries and continents.
"By turning the world UN Blue for a day, we can light the way to a better tomorrow. I am grateful our Member States are showing such strong enthusiasm in marking 70 years of UN support for peace, development and human rights," said UN Secretary-General Ban Ki-moon in a press release.
The UN has its own official shade of light blue, which is used to identify the organisation around the world. UN peacekeepers are also unofficially recognised with their blue helmets and blue berets, and the colour also forms the background of the UN flag.
The famous monuments that will be lit blue, range from the Great Pyramids of Giza in Egypt, to the statue of Christ the Redeemer in Rio de Janeiro, the Empire State Building in New York to South Africa's Table Mountain, the Edinburgh Castle and Westminster Hall in the UK to the Leaning Tower of Pisa in Italy and the Oslo Hall in Norway all the way to Japan's Sky Tree Tower in the far east. [Check out the full list here]
2015 has been a rather busy year for the UN with the Syrian crisis, consequent migrant upheaval and the year's general assembly featuring some powerful speeches including one by the Pope. The UN also unveiled its millennium development goals for 2030.