The tragedy of what has happened in Syria has spawned numerous artistic renderings. This is only fit and proper considering the historic nature of what has taken place there – the strength of revolutionary sentiment, the extreme violence of the regime's initial crackdown on protests, the biblical refugee crisis which has now drawn in neighbouring countries and created desperate, wrenching scenes in the Mediterranean and in mainland Europe.
But at times it seems that only passive portraits have met with international acclaim.
Compare the nature of the documentary The White Helmets, a laudable portrait of humanitarianism which has just won an Oscar for best documentary short, with that of Return to Homs, a more explicitly war-like, though no less moral, depiction of the conflict. The latter seeks to explore the mental state and fates of those who rose up against the regime of Bashar al-Assad, and it is successful enough to make a heroic figure of its protagonist, Abdelbasset al-Sarout.
The film does not seek to proselytise about the Syrian revolution, but simply by exposing the fates faced by oppositionists and the brutal reality of life in the country, it ends up convincing the viewer of the essential morality and rightness of their cause. The destruction of the city of Homs serves to illustrate the broader disintegration of Syrian civil society itself, and the role of the regime's bombs and bullets in that destruction.
The White Helmets is good – just as good – at demonstrating the terrors of life in Syria for civilians. And it is clear-eyed about the causes of this violence. Its chronicling of the lives of those who pull people out of rubble and seek to treat the wounded is affecting and effective. Theirs is a necessary and moving story. But its win at the Oscars is almost denuded of all context.
It is merely a film about the horrors of Syria; it is simply testament to the nature of the sufferings of Syria's people, an almost generalised statement that war is bad and that those who do good in war are noble.
There is nothing wrong with these statements, despite their obviousness – not least because so many have sought to impugn the White Helmets either as foreign hirelings or an al-Qaeda in the making.
The fact that this film won now, six years into such an essential conflict, suggests that, at least culturally, Syria is no longer a war with participants and sides, but rather that it exists at the same time as a current event and a part of history: a morality tale to be constructed while it happens.
A more productive note was struck in the acceptance speech written by Raed Salah, the head of Syria Civil Defense, which was read out by Orlando von Einsiedel, the film's director.
After a standard statement of gratitude – notably for the film being made at all, not for the award – Salah pointedly refers to the motto of the organisation, derived from the Quran: "To save one life is to save all of humanity", something which is all the more effective in light of witnessing the White Helmets pulling babies from bombed-out buildings, civilians from rubble.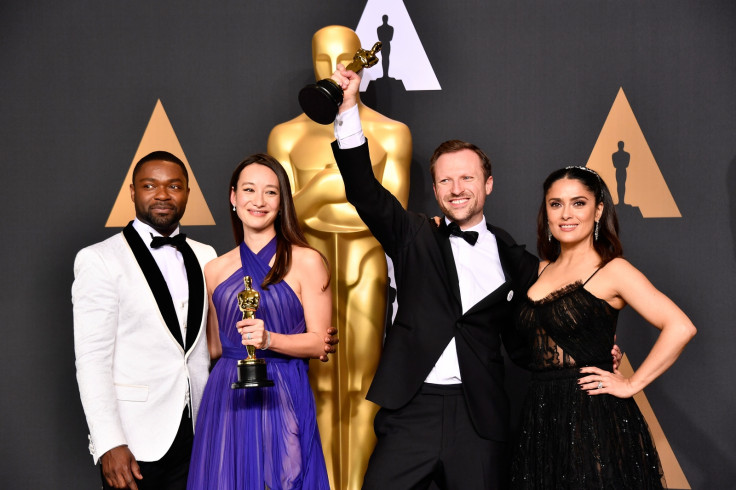 Rescuing one person may seem like saving the whole world, but an element of the cumulative matters at the same time. Salah addressed that, too: he noted that the White Helmets "have saved more than 82,000 civilian lives". And no one can doubt the impact this has had, both for the people rescued and more broadly, providing some hope for a country fast running out.
His words avoided cliché and transcended the more than a little absurd setting which the Oscars represent. He is not passive; he is active, and so are the sentiments he expressed.
Salah also urged activity on his listeners. "I invite anyone here who hears me to work to stop the bloodshed in Syria and around the world," he said. This is in marked contrast to the reverence and staid solemnity which the film has attracted in some quarters.
Saying that something must be done can seem obvious – and at the same time it is all too easy for these sentiments to remain unfulfilled. They are, after all, just words; and it's too easy for those who voice them to remain ineffectual.
Salah's case, and that of the White Helmets more generally, has more moral heft and weight. This was not, despite its location, a typically light showbiz pronouncement on matters of complexity. It's a call to action from people deeply worthy of emulation. Salah does not, after all, state these things idly.
For the White Helmets, after all, activity is not an aspiration. They rescue people in the midst of a terrible conflict every day and will continue to do so, regardless of what the rest of the world does and even regardless of what it thinks.
Until recently, the wider world had thought little of Syria and done less to help. There are encouraging signs that the former has now changed. But more than kind words and happy thoughts are necessary to end Syria's suffering and that of Syrians.
International humanitarian aid, to Syrian humanitarian organisations and those tackling refugee crises in neighbouring countries and in Europe, has to be increased. Interest and good intentions alone will not feed the hungry or house those who have lost everything. Oscars cannot not educate those children who have lost all chance of attending school.
The success of The White Helmets could have one positive effect in particular. It might make more apparent than ever that those suffering in Syria, and therefore also fleeing that country, are people who have lost so much and whose choices in this regard are rational. And this might compel Western nations to accept more refugees.
This could acknowledge the agency of Syrians. It could transform the passive into the active. And it might serve as a basis for future action. This morality tale may yet have an ending of which we in the West can be proud.
---
James Snell is a British journalist who has written for many international publications. Follow him on Twitter: @James_P_Snell.
---