It is shameful enough Theresa May hasn't crawled out of Downing Street on her knees this morning like a penitent Henry II and begged for forgiveness.
She tried to win by murdering Jeremy Corbyn but she has ruined her own leadership, divided the country, destroyed our reputation with the rest of the world, and added more uncertainty to an already shaken economy. Her election-come-power grab has turned into one of the biggest reality checks in political history.
On election night she, her party, the establishment, and older voters en-masse got a ringing slap about the face. Now as the prime sinister spins and totters on her kitten heels, she strains to see a political future through her watering eyes. And there, a clutch of strange, grey faces looms into the blur. These gargoyles are the DUP. If they support her, she can just get just enough MPs on her side to hold a gossamer-thin 'majority'.
We should be afraid. Theresa May has stumbled into a dark place and the only people wanting to talk to her are a bunch of lemon-skinned lunatics with ties made out of string and dead badgers. The DUP are strange.
For those not acquainted with Northern Ireland and its extremely depressing brand of 'politics', the Democratic Unionist Party is the one wanting to remain part of the UK. Yet, the surprising thing is that this quasi-patriotic party is utterly unpatriotic, undemocratic, and unkind, treating the UK's progress towards equality and liberalism with the kind of scorn you would expect from a time-travelling Victorian Presbyterian zealot.
Protestant unionist Northern Ireland will paint the kerb stones and children's faces red, white, and blue and hang union flags from every lamp post but its primary political party has utter disdain for the rest of the UK's values.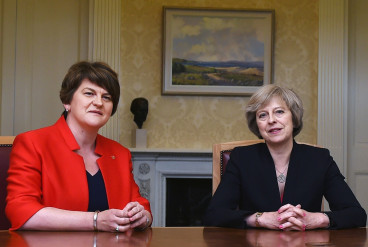 More surprising to many will be the fact that its nemesis, the anti-British Sinn Féin, is far more in tune with modern British values. Unfortunately, Theresa May cannot ask Sinn Féin for support because – naturally – they refuse to sit in parliament.
The DUP is anti-abortion. If a woman is raped and falls pregnant, the DUP as a party will be against her right to choose a termination. Only if the mother is facing death in labour will they begrudgingly support her right to decide the fate of her own life and body.
Not so long ago, when women addressed DUP members, many of them made mooing noises.
The DUP is anti-gay. There is still no gay marriage in Northern Ireland and that's down to the scurrilous political misery of the DUP. Sinn Féin has repeatedly moved to vote for same-sex marriage. That's right, the party synonymous with anti-British Catholicism is the champion of gay rights in Northern Ireland. Meanwhile the DUP abuses the system to block it time and time again using a political spanner called a "petition of concern".
The DUP struggles with racism. Only three years ago, the former DUP leader Peter Robinson backed a born again preacher who denounced Islam as evil and the "spawn of the devil" then tried to calm the subsequent anger by stating that, while he would not trust Muslims who adhered to Sharia law, he would "trust them to go to the shop" for him.
Now, this crackpot bunch of political lightweights and opportunists is being courted by our national zero, Theresa May, as she tries to sticky tape a government together.
Well, the young spoke out and Theresa May needs to listen. She asked for a mandate and has been given a reality check. She pandered to the prejudiced and ignored the good heart at the core of this country. She may have skipped gaily through fields of wheat as a girl but now her feet are firmly stuck in the putrid, grey sludge she's been pumping out since the campaign began.
Theresa May promised her own voters "strong and stable leadership" but the DUP is neither. It is weak and wholly unstable. It has overseen an arthritic and largely defunct Northern Irish parliament and now she may go to them begging for her coronation.
The DUP must not be given any power over our future. They do enough damage from Stormont. In Westminster, their party must remain an eccentric irrelevance.
---
Andy West is a TV, radio, print and online journalist and children's author. Follow : @andywesttv
---