Three days into CES 2018 and the weird products just keep coming.
Following on from the earlier products that grabbed our attention, three more can now be added to the list of strangest gear available. We've already seen airbag belts and fingernail sun sensors, and now this it's time for the health nuts' wishlists to get longer.
Quartz Water Bottle
Cleaning out your water bottle has never been a hugely strenuous chore, but for anyone looking to save 30 seconds, there is an answer. The Quartz Bottle uses ultra-violet light in the lid to keep the water clean. Not only does it clean the water, it also keeps the bottle fresh.
The 500 ml bottle is charged with a USB cord and sells in five colours: black, pink, blue, white and mint. It will also keep water cold for 24 hours and hot for 12. It will sell for $99 in the US (£75 in the UK) and go on sale later this year.
The bottle is being crowd-funded on Kickstarter and has so fair raised $1.37 million. The company's initial goal was just $30,000. The bottle will automatically clean the water every four hours and only needs to be recharged once every few months.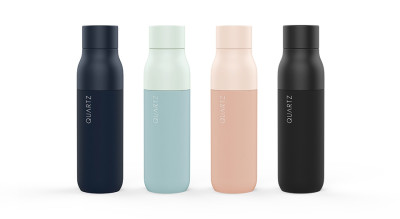 Razor Turbo Jetts
If you missed the hoverboard craze, don't worry. Sure they were mildly fascinating, but the overall appeal was not huge. Razor may have provided us with the 2018 version – the Turbo Jetts.
Aimed mostly at children, the Jetts are strap-on attachments for your shoes that attach four wheels (two on each foot). The catch is, one of the sets is motorised and can push you around. Like anything, practice will make perfect.
The battery will run for 30 minutes and needs between two and four hours to full recharge. Not a great ratio.
Modius
People hoping to lose weight in 2018 have been offered a shortcut thanks to a headband designed by tech-health company Modius Health. The Modius headband is worn once a day and requires users to attach electrodes to just behind their ears.
An hour-long session each day will theoretically curb your appetite and convince your body to start burning fat by stimulating the neurovestibular system. The electrodes shoot small electrical pulses into your skull to activate the vesitbular system.
Not sold? According to the Modius website, more than 70% of people who used Modius have lost weight. The average user drops 12-15 pounds in about eight weeks.