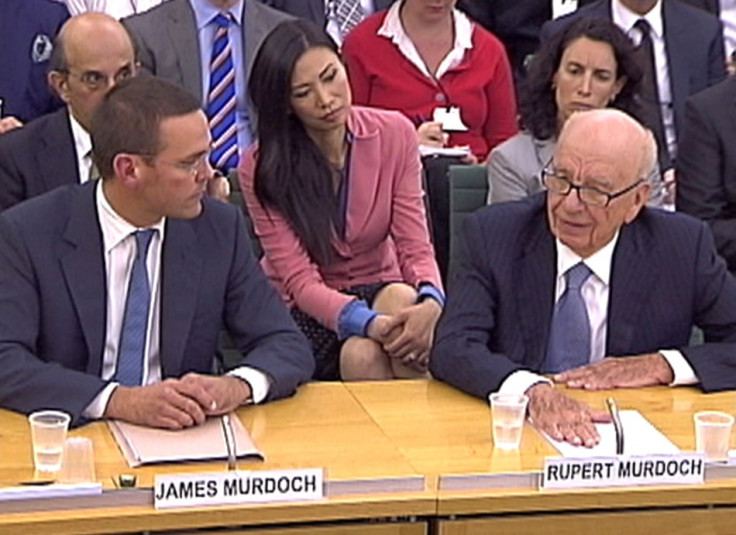 Thrust into the spotlight after she defended Rupert Murdoch from a shaving foam attack during the select committee hearing; is Wendi Deng more than just a loyal wife to the powerful media mogul?
With a hard swipe in the face of a protester wielding a plate of shaving foam, Wendi Deng became an unlikely hero and online sensation as she emerged of the Murdoch's questioning following the hacking scandal.
The 42-year-old launched into a furious attack during the select committee hearing as she tried to defend her octogenarian husband after an intruder also called Jonnie Marbles or "pie man" tried to shower the mogul with shaving foam.
Captured on camera and broadcast to millions around the world, Wendi Deng leapt from her seat and slapped the protester with her right hand before picking up the paper plate and trying to push it back into the man's face.
As video of the attack circulated worldwide, chatter spread across the internet hailing Deng's actions.
China's micro bloggers made the incident one of the most popular topics on the country's Twitter-like service Weibo, even though the hacking scandal had previously attracted relatively little media coverage.
As she suddenly became a Twitter sensation, her actions generated the new online nickname of "Smack down sister".
However, while she had until now kept a relatively low profile, many now want to know who is Wendy Deng?
It seems that Murdoch did his best to keep his partner out of the limelight, who does not give interview and even refused to talk to journalists since as former News Corp spokesperson Gary Ginsberg once put it, As the wife of the chairman and a private citizen, Wendi is entitled to her privacy,"
In 1999, talking about his relationship with his wife, Murdoch told Vanity Fair magazine she would never worked for News Corp and was instead was "busy working on decorating the new apartment" in Manhattan.
More recently, his wife's reputation as a behind-the-scenes trouser-wearer par excellence, both personally and professionally, has risen.
In Michael Wolff's biography of Murdoch, he writes of Deng: "Let's recast this story as a triumphal, even uplifting tale of pluck and achievement. She's not [William Makepeace Thackeray's cynical social-climbing heroine] Becky Sharp, she's Pip in Great Expectations."
Some even say that in her home country she is, by all accounts, something of a role model to thousands of young Chinese women, many of whom see her rise to wealth and Western supremacy as nothing short of inspirational.
She was born Deng Wen Ge and was one of three children and the daughter of a factory manager. She and grew up in eastern China, simplifying her name to Wendi in her mid-teens.
While studying medicine aged 16, she met the Californian couple, Jake and Joyce Cherry, who had been posted to the region. Proving herself a tough cookie from the start, Deng persuaded the Cherrys to sponsor her for a student visa to the US.
Later on, once in the U.S, Mr Cherry subsequently left his wife for Wendy, 30 years his junior. They married but lived together for no more than a few months.
Deng then became embroiled in an affair with David Wolf and a little less than three years later, she and Jake Cherry divorced. Mr Cherry told The Wall Street Journal: "She told me I was a father concept to her, but it would never be anything else. I loved that girl."
With an MBA from Yale University and a degree in economics, Deng was then employed by Star TV, News Corp's Asian satellite-television operation in Hong Kong, as an intern in 1996. She met Murdoch in 1998 when she was assigned the job of his interpreter in Shanghai and Beijing and rumours of a more intimate relationship between them began circulating a matter of months after that.
Throughout the years, the press teased and made fun of Deng and her relationship with Murdoch. When Anna Nicole Smith died, Private Eye published a picture of her as a dominatrix captioned with the words: "Anna Nicole Deng: the scheming temptress who stole her way into the heart of a foolish old man - and stole all his money as well".
However, on the other hand, many insist that the mogul's wife was always much more than just a young and pretty face. Rumour has it that Murdoch was attracted to her more for her abilities to ease his entry into China than anything else.
Deng is fluent in Mandarin and has been acting as a quasi-ambassador for News Corp there, she has been chief strategist for MySpace China.
She is also co-founder and co-CEO of the film company Big Feet productions - Snow Flower and the Secret Fan happens to be its current project, and will have a giant publicity boost after this week, which clearly put her out of the run as a simple trophy wife.