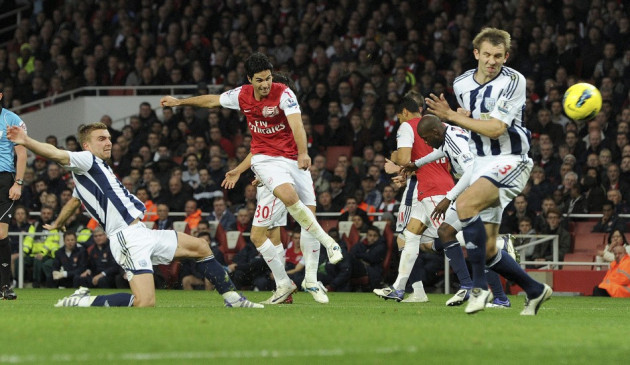 Arsene Wenger has lavished praise on midfielder Mikel Arteta following a string of impressive displays.
Arteta, 29, was a £10m deadline-day signing from Everton in August and the midfielder has slotted seamlessly into the role vacated by the injured Jack Wilshire.
The Arsenal playmaker has notched three goals in 11 appearances for the Gunners since his move but Wenger singled out the solid foundation the player has provided alongside Alex Song in central midfield.
"Mikel is an extremely important player in our team because he has both sides that make a team good," Wenger told the club's official Web site.
"He is consistent going forward, technical fantastic and he works very hard for the team. He is an organiser too and does the job defensively in vital parts.
"We look solid at the moment and he has to take a big part of the credit because he does both jobs offensively and defensively - with quality."
Arteta, a long-term target for Wenger, has provided the Gunners' with much needed solidity in midfield and impressed during the recent 2-1 win over Borussia Dortmund in the Champions League.
"I am very happy with his defensive job and he is rewarded for it because he plays. If I play him it is because I am happy with the job he does and if he had not done such a consistent job defensively he would not be in the team.
"I believe that Mikel Arteta is a winner and on the pitch he does what is needed to help the team win. That's what I rate."