Wenger: Ozil Cannot Make a Difference Alone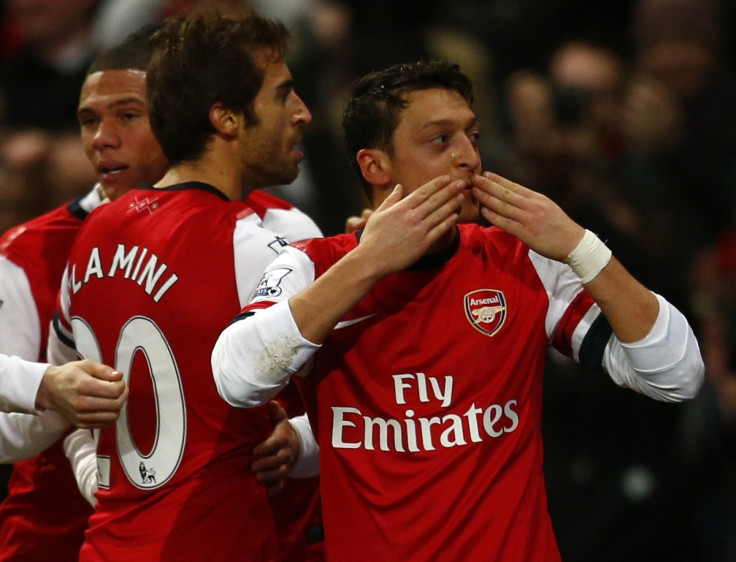 Arsene Wenger believes that people are expecting too much from Mesut Ozil and should give the German some leeway when he is not performing to his potential.
The Gunners bought Ozil for a record £42.5m fee last summer from Real and the German has been in good form thus far, though not influencing the team as much as the fans would have liked following such a high profile acquisition.
Ozil has scored three goals and assisted seven thus far in the league but the fans expect the 25-year-old to raise his goals tally in the same ilk as Aaron Ramsey who is their highest scorer this season and arguably their best player.
Wenger believes that the goals will come as he grows older and enters his best years and has urged the fans to encourage him on the field and not put undue pressure on his shoulders.
The Gunners are currenty top of the league, a point ahead of Manchester City and two points ahead of Chelsea in the league race. Ozil's arrival has tranformed the mood in the Arsenal dressing room and Wenger believes that his star signing will offer much more when he acclimatises himself with the Premier League.
"Sometimes people expect him to make the difference alone. Sometimes when it doesn't work you expect him to take the ball and put it in the net. He is more a passer than a finisher," Wenger said.
"(Goalscoring) is one of the things he can add to his game for sure. It doesn't need to be criticised, it needs to be encouraged. He is 25, he can only get better. The best years are coming for him now," he added.
Meanwhile, Wenger also heaped praise on new academy head Andries Jonker who will replace Liam Brady come the end of the season.
"I am very pleased that Andries is joining us.He has a big reputation in the game and was a key part of the team which developed the structures which are now producing such strong young players in Holland.
"I look forward to working with him. I would also like to thank Liam for his work which has been outstanding over many years," he concluded.
© Copyright IBTimes 2023. All rights reserved.