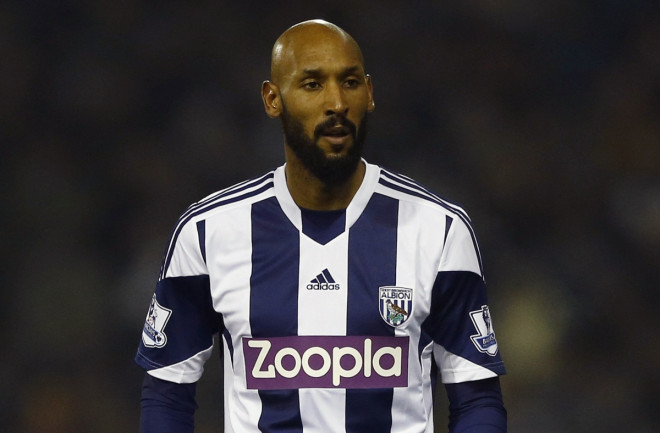 West Bromwich Albion have confirmed that they have handed Nicolas Anelka 14 days' notice to terminate his contract with the club.
Earlier this month, the former Chelsea and Arsenal striker was suspended after being handed a five-match ban by an independent commission for his "quenelle" gesture during the match against West Ham United on 28 December, 2013.
On Friday, the 35-year-old had declared via his official Facebook and Twitter, that he is terminating his contract with immediate effect stating that the club had set unacceptable conditions in order to resume training.
The club initially released a statement which said: "The Club notes Nicolas Anelka's comments on Twitter and Facebook this evening (Friday). However, the club has received nothing formally regarding the termination of Nicolas Anelka's contract from either him or his advisers."
"The Club regards the release of such a statement on Social Media as highly unprofessional and will make a further statement when appropriate."
West Brom then issued a second statement declaring the conditions for Anelka's termination of his existing contract with the Baggies, which expires at the end of the season.
The latest statement read: "FURTHER to the statement issued earlier this evening, the Club notes Nicolas Anelka is unwilling to agree to the conditions set by it which may have enabled his suspension to be lifted and for him to resume training."
"These conditions were, firstly, that the Club required Nicolas Anelka to apologise to it, its supporters, sponsors and the wider community for the impact and consequences of his gesture made on December 28 and secondly, that he accept a substantial fine."
"Nicolas Anelka's purported termination of his Premier League contract this evening via Social Media was invalid as this was not conducted under the correct legal process as required by his contract."
"The Club considers the conduct of Nicolas Anelka on December 28, coupled with his purported termination on Social Media this evening, to be gross misconduct. As a result the Club has tonight written to Nicolas Anelka giving him 14 days' notice of termination as required under his contract."
Anelka has made 12 appearances in the Premier League for the West Midlands club and has scored two goals so far. His last appearance for the club came during the 4-3 defeat against Aston Villa at Villa Park in January.