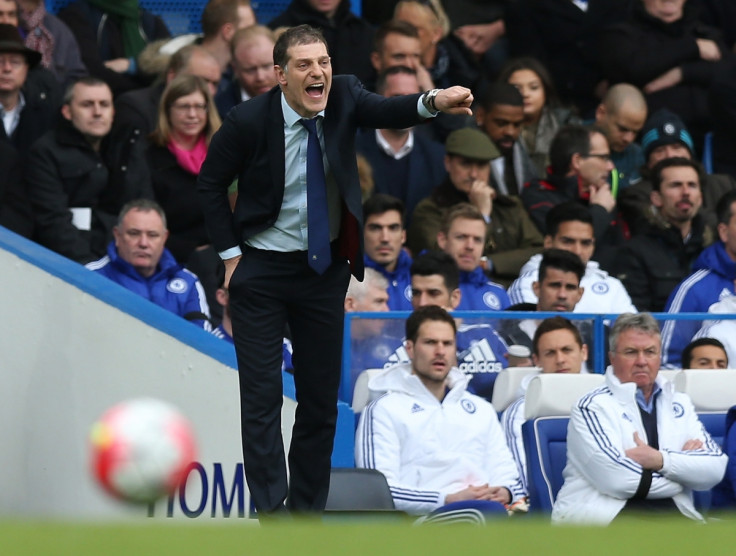 West Ham manager Slaven Bilic has admitted that Manchester United deserved to go through the FA Cup semi-final as the Mancunians were the better side for the majority of their 2-1 defeat in the quarter-final home replay on Wednesday night (13 April). The boss, nevertheless, claimed that United themselves admitted to him that it has been "by far the best performance" from Louis van Gaal's side in the last few months.
United dominated the last-ever tie at the Boleyn Ground during the first 75 minutes of the encounter, with Marcus Rashford and Marouane Fellaini scoring one goal each then to fire two goals up. Yet, James Tomkins' goal with 11 minutes left gave West Ham some hopes to come back with a thrilling end. However, David De Gea blocked the Hammers' intentions with a number of string saves to deprive the Hammers of the FA Cup and send his side to the Wembley semi-final against Everton.
"It's a huge disappointment for us and for me, of course," Bilic admitted to West Ham TV. "The players are gutted in the dressing room, but we have to admit they were the better side for the majority of the game.
"They had the composure. We had the energy, but we didn't have the quality in the phase of the game when we had the ball. It wasn't on the top level and that's why we were really good in the first 15 and last 20 minutes, but apart from that they passed and kept the ball better. They stretched us and they deserved to go through.
"OK we created more than enough chances to equalise and to get the game into extra-time but it wasn't to be. Their goalkeeper made a few good saves, but overall they were the better side tonight."
Bilic, nevertheless, believes that United deserved all the credit as the Mancunian staff themselves admit that it was one of their best performance of the season.
"OK, first of all I spoke to their staff and they said it was by far the best performance from them in the last few months. They are Manchester United and they are capable of doing that and have done so on a few occasions this season.
"Second of all, I don't think it has anything to do with the importance of the game and all that. Some players were not on a level and sometimes it's hard to find a reason. There's no big reason there, but it is enough at this level to lose that split-second or couple of yards.