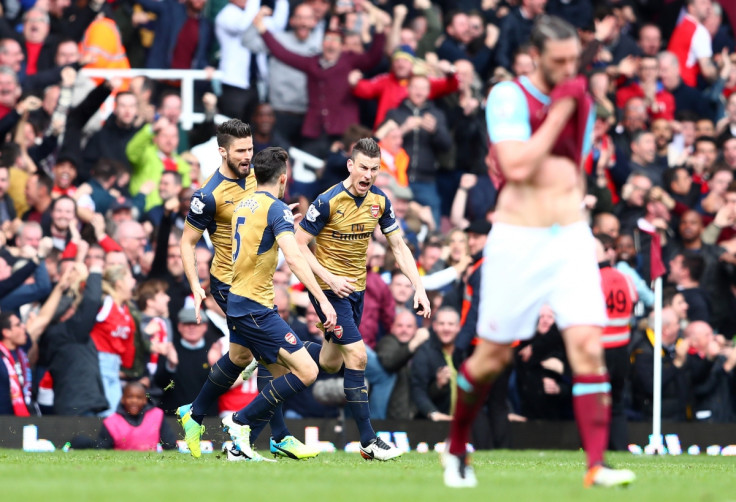 Laurent Koscielny believes that the blame for Arsenal's 3-3 draw with West Ham should not fall on the defenders as the players on the flanks should have been more aware and tried to stop the crosses coming into the box. The Gunners took a 2-0 lead in the first half but a hat trick by Andy Carroll all but ended their hopes of making a miraculous comeback in the title race.
Mesut Ozil and Alexis Sanchez had put Arsenal ahead but two goals in the space of three minutes at the end of the first half saw the Hammers go level into the break. Dimitri Payet had a goal disallowed a few minutes into the second half but Slaven Bilic's men did not have to wait long as Carroll found room in the edge of the box yet again to power home a header, which went into the back of the net.
The Gunners took a point after Koscielny found himself unmarked in the penalty box and slotted past Adrian as they failed to find the decisive fourth goal which would have brought down the difference with Leicester to eight points, with the Foxes set to play Sunderland on Sunday, April 10. The Frenchman was all praise for Carroll but revealed that the north London club could have done a bit more to stop him from getting those headers inside the box.
"[Carroll] He is quality when it comes to heading the ball. If you want to win the duel, you need to be stronger and arrive early on the cross. You can't let them get a cross in easy because they have some good players on the wings. It is a job for everyone, not just the defenders. The guys on the flanks need to help their team-mates with defending," Koscielny told Arsenal's official website.
"We are disappointed. When you are 2-0 up and they come back, it is difficult. We have played well in the game but lost some important duels. They played on the counter-attack to cross the ball to Carroll who is good in the air. We conceded the same amount of goals [as them] today and it is difficult to come away with one point when we wanted more," he added.