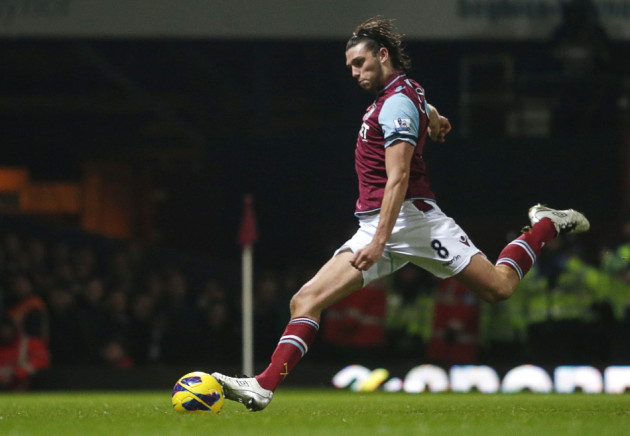 West Ham United co-owner David Gold is hopeful Andy Carroll will return to the first team in a matter of weeks - not months - and is confident the club aren't faced with situation similar to the one involving Dean Ashton four years ago.
Carroll has not played any football for the Hammers since the final day of last season where he picked up a heel injury. His return to the first team was further delayed at the start of the new campaign after picking up a separate foot injury which has required him to visit a specialist in Belgium.
Sam Allardyce has previously suggested there is no time scale for the return of the club's record signing, suggesting they will assess his fitness on a week by week basis to avoid putting pressure on the England international.
A previous admission from the West Ham boss claimed Carroll's latest injury - involving the band of tissue running underneath the foot - carries a four per cent chance of a reoccurrence, a small percentage that unfortunately the former Liverpool striker is susceptible to.
But the club's co-owner Gold is confident the club can avoid such a scenario, insisting with the right precautions and preparation, the club can avoid a scenario that saw Dean Ashton forced to retire at just 26 due to injury.
"Since Andy broke down we have taken the world's very top advice on this injury," Gold told Sports Direct News.
"We have spoken to specialists in America and Europe and have a complete understanding of what we are dealing with. There is much that can be done to solve the problem.
"Special boots can be made, heel pads are available and strengthening the foot muscles to deal with it are underway and we have all the information we need to know how to protect Andy.
"Andy is doing well in his recovery programme. I am hopeful he will be back in action within weeks - not months.
"There's been an awful lot written and said but that's the situation we have now reached. This is not a Dean Ashton situation or anything like it.
"We and Andy are in a much better place now with all the information we have received."
To offset Carroll's continued absence, West Ham have recruited Mladen Petric and Carlton Cole since the closure of the transfer window to address their shortcomings in front of goal, which has seen the club score just four Premier League goals - the joint lowest in the league.