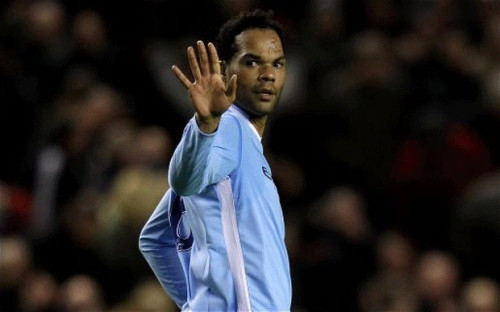 West Ham United's hopes of easing their defensive injury problems have been damaged after Manchester City boss Manuel Pellegrini reaffirmed the club's desire to retain Joleon Lescott.
The Hammers are without James Collins, Winston Reid and James Tomkins due to injury and have been forced to sign Roger Johnson – who made his debut in the 6-0 League Cup semi-final first leg defeat to City - on loan from Wolverhampton Wanderers until the end of the season.
However, the loss at the Etihad Stadium, which followed the 5-0 humiliation at Nottingham Forest in the FA Cup, has worked to emphasise the extent of West Ham's defensive woes.
England international Lescott has made just 14 appearances for City this season and in a World Cup year is likely to be keen to increase his activity in order to force his way into Roy Hodgson's 23-man squad for Brazil.
However, Pellegrini is unwilling to part with Lescott given the fragile form and fitness of Vincent Kompany and Martin Demichelis despite the 31 year old's contract being due to expire in the summer.
"He is not going for the moment," said the City boss told The Sun."Joleon Lescott is a very important player for us. He finishes his contract in June. We will see what happens in the future."
Both Fulham and West Ham have been linked with a move for Lescott, but both clubs are likely to be denied with Pellegrini conscious of the resources available to him as City attempt to fight on four fronts this season.
Allardyce is desperate for additional players at West Ham with the club fighting a relegation battle at the bottom of the Premier League and they face Cardiff City this weekend with the manager's future heaped in uncertainty.
And the beleaguered West Ham boss says he will not quit in the face of criticism from supporters after the club's second consecutive heavy away defeat.
"There are times when it is good and there are times when it is not so good," Allardyce said. "You have to accept that when it is not so good, you have to draw on your strengths and experience to guide the players through this difficult time we are facing.
"At the end of the day, we cannot keep walking around with our heads down in doom and gloom. We have to get our heads up and our shoulders back and our chest out and start believing that we are going to do better."