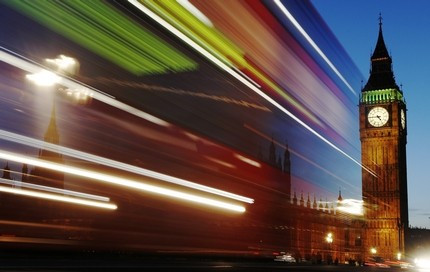 For the few people who actually watch prime minister's question time live, and I don't include the US viewers who approach it in the same way they would a new episode of Monty Python, this week's drama was noticeably different. Largely because it wasn't at all dramatic.
There was an understandably sombre tone, partly as a result of the sad death of Labour's widely-liked Paul Goggins, but it was more than that.
Ed Miliband was low key, consensual and calm. And David Cameron went along with the mood. Suggestions they had done a deal to cool it, believing their clashes had got out of hand last year, were quickly and robustly denied.
However, Miliband's team were happy to confirm suggestions the Labour leader was trying out a new, less playground-style approach in an attempt to bring a bit of dignity and seriousness to proceedings.
It was a bit unclear whether they really had planned this or were just reacting to media speculation after PMQs happened to be a bit lacklustre this week. Still, if we believe Speaker John Bercow, it is what everyone wants isn't it?
While there is no doubt that some of the more extreme, yobbish antics do little to boost the reputation of MPs with voters, there are two big problems with this routine assertion.
Firstly, very few people watch it as it happens but see only the bits the broadcasters select for later bulletins. So only the most dramatic and "lively" clips will make it to TV screens anyway.
Secondly, viewers also say they want passion and commitment from their MPs and you certainly get that in PMQs, albeit in an often infantile fashion
And you only need to look at what has happened to coverage of the routine, less rumbustious sessions of parliament to predict what might happen if PMQs went the same way. That is, no one would watch at all!
Anyway, it doesn't matter. Every leader from Margaret Thatcher on has declared they want to tone down PMQs – David Cameron notably promised to take the "Punch and Judy" out of it. It usually lasts about a month.
Quote of the week
London Mayor Boris Johnson once again displayed his feelings towards Nick Clegg, saying the LibDem leader was in government to "perform a very important ceremonial function" as a "prophylactic protection device for all the difficult things David Cameron has to do". Nice.
He went on to say he did not want to "get into some sort of endless ding-dong with poor old Cleggers".
That should put things right between them then.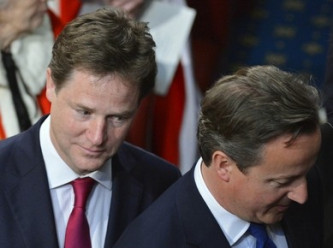 Tweet of the week
In direct response to the Boris quote, Labour's Angela Eagle tweeted the following:
"I'm not the greatest expert in this area but thought you were supposed to be able to trust contraception".
Bullseye.
Making a splash
What is it with MPs and reality TV shows? Do they really believe they will prove they are "in touch with real people" by appearing in the jungle eating leeches and kangaroo testicles, or locking themselves in an Ikea-themed cell with other "celebs" and made to slag each other off ?
Wrong. They are there in the hope they will make fools of themselves to the thorough enjoyment of the nation. And they seldom fail to live down to expectations.
At least Tory MP Penny Mordaunt has avoided the Nadine (Jungle )Dorries and George (Big Brother) Galloway routes to instant fame and instead opted to take part in ITV's "Splash!"
This is a show that follows "celebrities" as they are shown how to elegantly launch themselves off the top diving board. The jokes are just too obvious really.
Still, Mordaunt is a Royal Naval Reservist so it is fair to assume she can swim.
What about a reality show that has some passing connection with their proper jobs – you know, the one's we are paying them to carry out.
How about "My Big Fat Saturday Morning Constituency Surgery"? Now that, I would watch.
Hair today
Are you fed up yet with hearing about David Cameron's hair do and his hairdresser who got an MBE, which was in no way linked with his abilities in covering up a bald patch?
For many years the palace of Westminster had its own, good, old-fashioned barber shop which served successive politicians well enough and where inane chatter about summer holiday destinations was never heard.
The most a customer got was a polite: "How would you like your hair done today Sir?"
To which famously gruff Tory MP Enoch Powell once replied: "In silence".