While the world waited with baited breath to scrutinize the first face-to-face encounter between US President Donald Trump and Russian President Vladimir Putin, cameras at the G20 summit happened to catch another brief yet hilarious interaction on Friday (7 July) between two global leaders.
Putin was filmed discussing something with German Chancellor Angela Merkel, the host of the Group of 20 summit, with one hand in his pocket and gesturing with the other. Merkel, however, did not seem to be too pleased with the discussion and appeared to roll her eyes before nodding at the Russian leader as he continues to talk.
Merkel's "epic" reaction had already taken Twitter by storm with many attempting to decipher what the conversation topic was that triggered the eye roll.
"Putin is explaining how he gets his chest so shiny by rubbing baby oil on it before he goes outdoors to show it off", one Twitter user mused.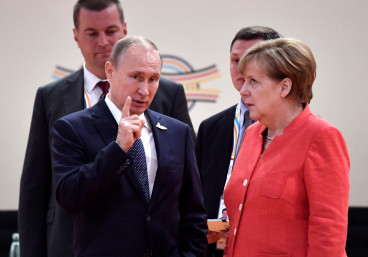 Some theorized that the two leaders were probably talking about President Trump. One person speculated that the two were discussing "how Trump gets his hair so high and to curve over".
"And then I told him how much I loved him on the Apprentice and he just melted..." another person wrote.
The clip quickly went viral, with many women identifying with Merkel's reaction as a response to Putin "mansplaining" something.
Journalist Nicola Slawson tweeted: "We've all been there Angela." One Twitter user wrote: "Merkel's eye roll is all of us".
"She's neck and neck with Ms Poland for my favourite person of the summit," another tweeted.