Leaked papers from inside JPMorgan have revealed the vast sums paid out to top banking executives who have been charged in a criminal probe.
Prosecutors in the United States have charged two executives over a series of catastrophic trades by the bank, which were then allegedly covered up.
Javier Martin-Artajo and Julien Grout allegedly disguised losses of $6.2bn (£4bn) incurred by Bruno Iksil - nicknamed the "London Whale" for the enormous size of his bets.
The former London-based traders have been charged with wire fraud and conspiring to falsify books.
Neither Martin-Artajo nor Grout work at JPMorgan any more but each of them casts a long shadow over the bombastic statements issued by the "masters of the universe" in charge at the bank.
JPMorgan claimed that the alleged cover-up was carried out by a small clique of rogue employees. Elsewhere, bank president Jamie Dimon has bragged of its squeaky-clean record while watching as rival banks had their dirty secrets dragged into public view.
Now the amount JPMorgan paid Martin-Artajo and Grout for their services is no longer a secret. The sky-high salaries have been flung under the public spotlight with the release of documents prised from JP Morgan's grip.
Financial documents reveal that Martin-Artajo pocketed nearly $11m in 2011 alone - down on the $12.75m he got in 2010.
By comparison Grout's pay was much smaller - $1m in 2011 and $750,000 the previous year. But hard-pressed workers struggling by on average pay packets in the teeth of inflation can only dream of such salaries.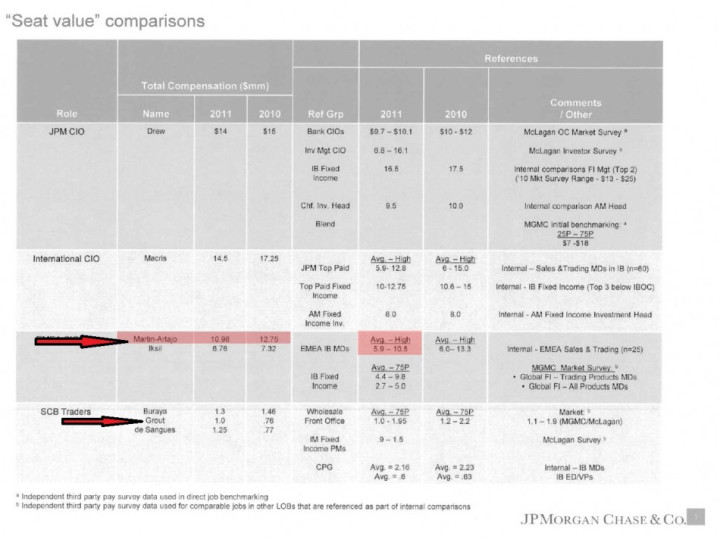 Taken together, the available details of the London Whale scandal and the size of the accuseds' salary cheques add up to a humiliation for Dimon.
Previously, he lived up to his bullish reputation by calling the scandal "a tempest in a teacup." Now the tempest is over his head. The charging of two of his former minions in the United States has also exposed how out of touch Dimon was with what was happening on his watch.
According to reports earlier this week by Martin-Artajo's lawyer, the banker had been enjoying a "long-planned vacation" and would not be back in Britain until "scheduled."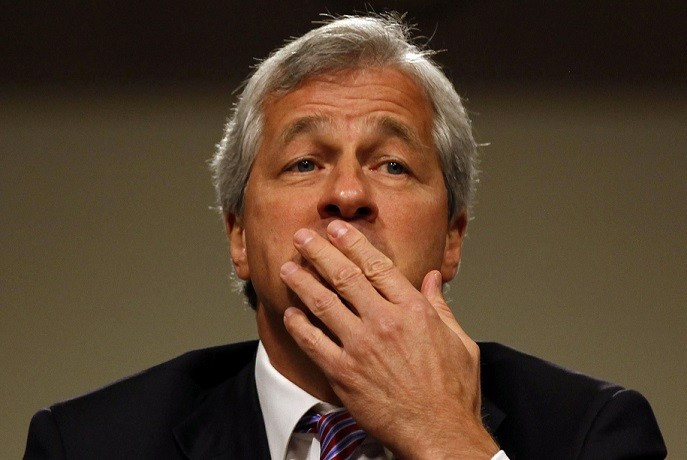 While no taxpayer lost money on the London Whale's trades, the men accused of covering it up have plenty for which to thank British citizens - whose own wages have collapsed in real-terms value by more than £1,000 in recent years.
That is because the fantastical sums paid to Martin-Artejo by JPMorgan during his time at the bank were effectively made on the backs of struggling families up and down Britain.
According to research by the International Monetary Fund, banks get indirect government subsidies of $76bn a year, of which JP Morgan rakes in $16bn. This "implicit subsidy" is based on bankers' belief that they will always get bailed out by the government, no matter what they do.
That means the likes of JP Morgan is in a position to pay out sky-high salaries and bonuses - because ultimately the UK taxpayer is there to cushion the fall should things go wrong. This was pointed out by Bloomberg, last year.
Evidence from the recent past bears out the confidence. Governments, including Britain's, scrambled to guarantee deposits after bankers nearly brought the entire system crashing down by racking up huge losses in 2007/08.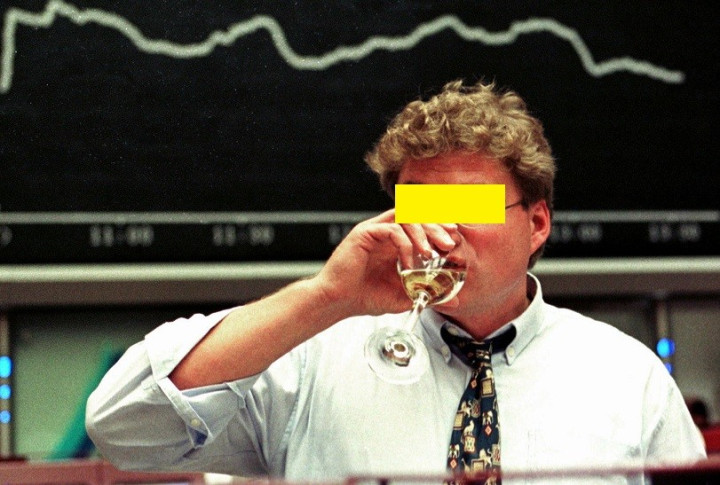 But since the financial crisis, many bankers have carried on partying, safe in the knowledge there is no moral hazard compelling them to exercise caution or restraint.
But with the prosecutors pressing charges, it is possible the party has come to a grinding halt for Grout, currently in his native France, and Martin-Artajo - as and when he gets back from holiday.