Who is Thailand's Regent Prem Tinsulanonda?
Thailand's heir-apparent's delay to assume the throne has caused confusion and speculation.
When Thailand's King Bhumibol Adulyadej died aged 88 on Thursday (13 October) he was the world's longest reigning monarch.
Following his death, it was assumed his son, Crown Prince Maha Vajiralongkorn, would assume the throne. But he has refused to take up the throne, forcing the Thai government to appoint a 96-year-old as regent.
In an appearance on Friday, 14 October, Deputy Prime Minister Wissanu Krea-ngam said King Bhumibol's head of the privy council and close confident, Prem Tinsulanonda, will assume the role of caretaker to throne.
"There must be a regent for the time being in order not to create a gap," Wissanu said, reported Reuters. "Even though there is no problem, because we have a clear answer, the head of the privy council must be regent temporarily. This situation will not be used for long."
Who is Regent Prem and what could it mean for the future of Thailand?
Regent Prem, 96, has been at the centre of Thailand's treacherous politics for decades, first as general and then as a prime minister and a staunch ally of King Bhumibol.
He was born in Songkhla Province, southern Thailand, in 1920 and started his military career in 1941.
After he joined the army, he received training from both the French and US armies and quickly rose through the ranks.
As a general, he survived two military coups in 1981 and 1985 by militant army factions due to the support of King Adulyadej and in return, Prem gave legitimacy to the monarchy. During the 1981 coup, Prem survived four assassination attempts.
After being appointed to Adulyadej's privy council in 1988, he has remained influential in the military and was said to be the mastermind of the 2006 coup.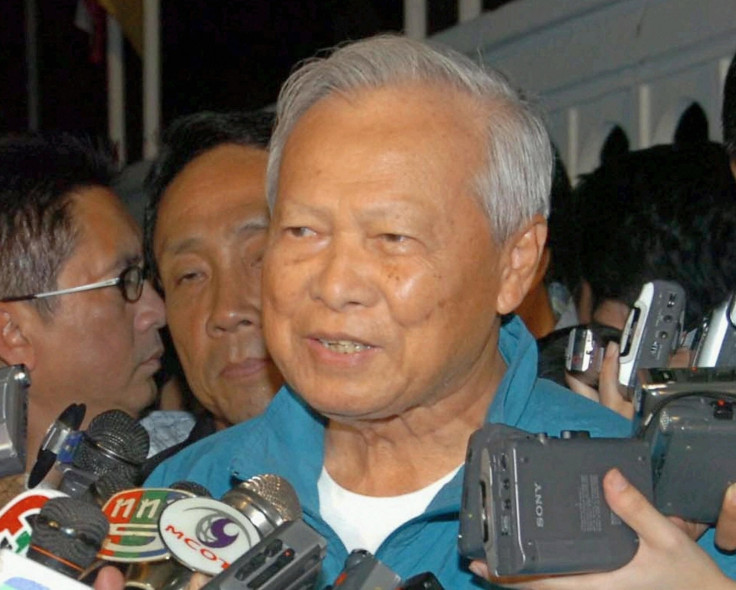 Prem Tinsulanonda questioned by reporters in 2006 after military coup.
Getty
Though his influence has waned in previous years, he is known to have voiced concerns over Vajiralongkorn's ability to undertake the role of king and makes his position now, as regent, politically significant.
Vajiralongkorn is disliked by a large section of Thai people because of his reputation as a womaniser and playboy. This has led to rumours that a new era of Thai politics is on the way.
But his hesitancy has caused speculation and confusion in a country whose history is peppered with coups and political instability.
The 64-year-old heir to the throne asked the Thai people to wait "the appropriate time" for him to mourn the death of his father and told the country "not to worry" about questions of succession, but no answers about who will fill the political vacuum have been provided.
However, in his address on Friday, Wissanu said Vajiralongkorn is expected to mourn for a year.
Why the confusion?
Thailand has a volatile political history and the country has undergone 12 successful military coup attempts since 1932.
The most recent of which was the mostly peaceful coup d'etat of 2014 when General Prayut Chan-o-cha, Commander of the Royal Thai Army, took power against the caretaker government of the time.
Most coups were followed hand-in-hand by changes to the Thai constitution, as was the case in 2014, but the most recent amendments make no reference to monarchy or succession.
As a result, the National Legislative Assembly of Thailand have had to refer to sections of the 2007 constitution to guide them.
In that, it states when the throne becomes vacant and the king has already appointed his heir – as is the case with Vajiralongkorn – cabinet shall notify the parliament president, who will convene members to acknowledge the new king.
© Copyright IBTimes 2023. All rights reserved.