Originally a holiday to celebrate being on your own, Singles' Day has morphed into the biggest day of online shopping anywhere in the world.
Little known outside of China, here we take a look at where Singles' Day came from and how it became the retail holiday giant it is today:
---
The origins of Singles' Day
---
Singles' Day (or Bachelors' Day) originated in China as a celebration of bring single. It began life in Nanjing University in 1993 and was initially only celebrated by single men (hence the Bachelors' Day moniker) but soon female singletons joined the party.
It was seen as a day when single people could celebrate with their single friends although some used the day to try and rid themselves of their single status by attending Blind Date parties.
---
All the 1s
---
November 11 was chosen for its symbolic resonance containing four ones (11/11) and has been dubbed 'Double 11' by some -- although that name has now been trademarked by Alibaba.
According to Wikipedia: "For breakfast on Singles' Day, singletons eat four youtiao (deep-fried dough sticks) representing the four "ones" in "11.11" and one Baozi (steamed stuffed bun) representing the middle dot."
In 2011 the Singles' Day of the Century was celebrated when all the ones (11/11/11) came together in a calendar alignment that saw celebrations taken to a new level.
---
Proposals
---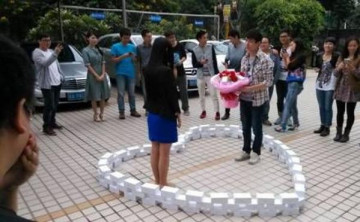 While Singles' Day is ostensibly celebrating the fact that being on your own does not make you a social outcast, the day has been used by many to redouble efforts to find a partner.
Most recently this was demonstrated by one young Chinese man who thought that buying 99 iPhone 6 smartphones (at a cost of £50,000) and arranging them in a heart-shape on the ground, would be enough to convince his girlfriend to marry him.
Alas, he was mistaken.
---
Enter Alibaba
---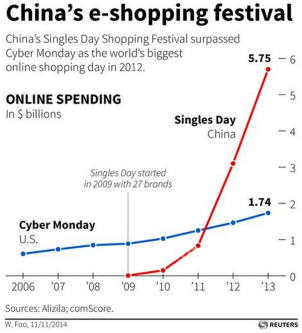 Singles' Day existed for many years as an innocent day of celebration before e-commerce behemoth Alibaba jumped on the idea that it would use the occasion to supercharge its online shopping revenue.
Just like Black Friday and Cyber Monday saw huge spikes in online shopping in the US and UK in recent years, Singles' Day has quickly become the most important day of the year in terms of sales for Alibaba.
In 2013 for example, it generated revenue of $5.8 billion (£3.7bn) during Singles' Day, which is double the $2.9bn spent in the US during both Black Friday and Cyber Monday last year.
---
What's on sale?
---
Singles' Day sales offers range from items you may expect -- smartphones, tablets, TVs -- to some that you may not -- dried cranberries, boyfriend body pillows, "I am single because I am fat" hoodies and even BMWs.
Alibaba -- or more specifically its Tmall and Taobao websites -- sell pretty much everything you can imagine from live scorpions to a piece of land worth $52m in Kunshan, Jiangsu province.
While Amazon claims to be the Everything Store, it is a name more suited to Alibaba.
---
Singles Day 2014
---
The rapid growth in Singles' Day sales over the last three years is not going to stop any time soon it seems, with some predicting Alibaba will almost reach $10bn in sales this year.
It seems to be off to a pretty good start, reporting revenue of $2bn in the first hour of sales while company's such as Xiaomi are reporting huge sales of their own through Alibaba's online store.
"Alibaba uses this event to reward consumers and reinforce its e-commerce influence in the China market," Vanessa Zeng, a Beijing-based senior analyst at Forrester told CNBC. "The Singles' Day event has become the most influential e-commerce campaign in China. Almost all e-tailers and even offline retailers join this event. Alibaba tries to demonstrate its leading position and gather as many merchants as possible to its platform through this event, and hit its competitors."