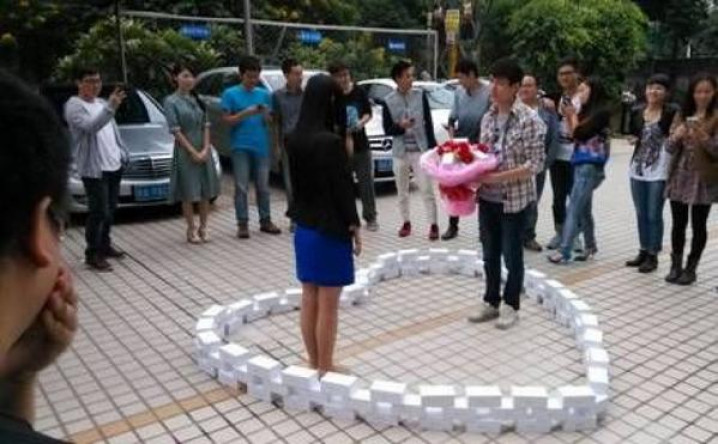 A Chinese programmer, tired of being single, spent over £50,000 to buy 99 iPhone 6s to propose to his girlfriend, but unfortunately there were no happy endings here as his intended said no.
The worker from Guagzhou spent the equivalent of a two-year annual salary in the country, £51,543 (500,000 yuan) to buy the iPhone 6s, Tencent News reported.
He proposed by arranging the iPhones into a heart shape and holding a bouquet of flowers but it was not a match made in heaven.
99 iPhone 6 to propose girlfriend pic.twitter.com/oqIi8DygLr

— d o m o (@ZaynShafek) November 9, 2014
The proposal was turned down in front of his friends and colleagues. Photos of the unsuccessful proposal went viral on Chinese social media site Weibo with several people dismissing the gesture.
Most users joked saying demand for iPhones in China is on the rise so he can easily resell them with one user wondering how the man was able to afford all the smartphones. "How many kidneys did it take to buy those phones?" remarked the user on Weibo.
Why would you even buy 99 iphones for a girl who doesnt love you? — Aisyah (@aisyahmakhzan) November 10, 2014
99 iPhones rejected cause can't buy love with money lah duh

— listen u little shit (@hanessimon) November 10, 2014
99 problems but a iPhone ain't one. — Breezy Baeby (@seauxbreezy) November 10, 2014
The news comes ahead of Singles' Day in China, which is celebrated by singles trying to woo their love interests.
Singles' Day is celebrated on 11 November due to the four lonely 1's in the date: 11/11