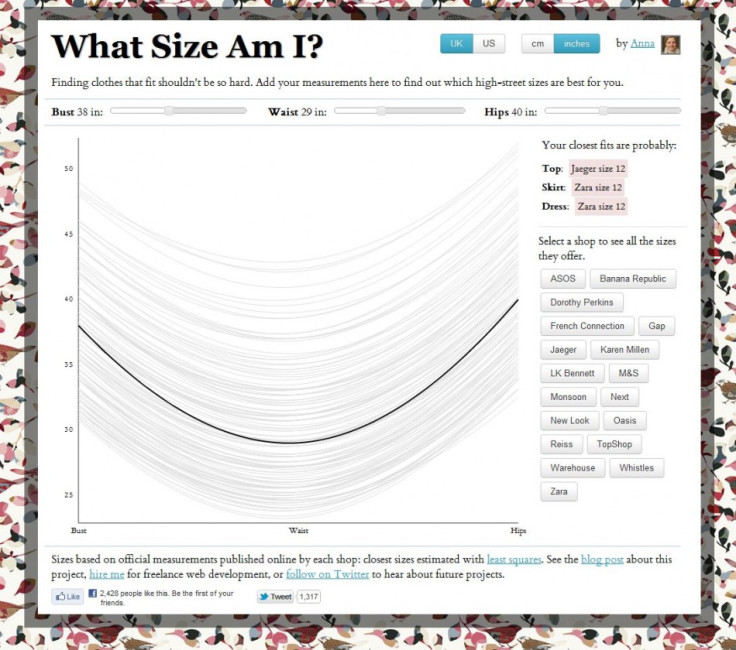 Fed up with the deceiving size tags on the brands? Tired of heading to the fitting rooms to find that it doesn't fit you! A solution to your problem could be at hand: a website that allows consumers to find out what size they fit in different brands!
London based Web expert Anna Powell-Smith has developed a new online calculator, What Size Am I?, to help "women in distress".
"As everyone who's ever bought clothes knows, high-street sizing is completely mad. You can easily be a size 8 in one store, and a size 14 in another, and it's impossible to guess your size without lots of zip-wrangling. However, I am a computer programmer as well as a fashion-fan, and so I decided to do something about it," Powell-Smith says.
Smith collected the official size data published by many different stores,then built a data visualisation to help the women of Britain and the US find their best sizes at different shops.
After logging in to the website sizes.darkgreener.com, put in your bust, waist and hip measurements, in inches and cm and see your most perfect fit in tops, skirts and dresses at shops from ASOS to Zara.
Her analysis on different sizes and brands explained a lot more on the sizing trends.
She found that Next has the smallest sizes on High Street while a size ten in Whistles, Zara or Reiss is actually bigger than a ten in ASOS, Monsoon or M&S. A regular size 12 in Reiss is around two inches bigger on the bust, waist and hips than at Next.
Women with a 28in waist buying clothes at Jaeger would need to opt for a size ten, but would need to purchase a size 12 at Next, whereas those buying a size 16 in Dorothy Perkins are around three inches smaller around the hips than those opting for the same size in Jaeger.
She also found that M&S and Karen Millen offer clothing for a more pear-shaped customer, while TopShop and Oasis cater to less curvy, more boyish figures.
This app is reportedly first of its kind and caters only to ladies. It has been designed for smart phones users too, so women can use the calculator while on the move.