Children's sugar intake is now reaching around seven cubes every day, prompting Public Health England (PHE) to suggest strict new guidelines on snacking.
Half of children's sugar intake comes from unhealthy snacks and sugary drinks, leading to obesity and dental decay, the health body said on Tuesday (2 December).
Many of the unhealthy snacks and drinks children consume regularly, at a rate of around three each day, are high in sugar and also typically high in calories, PHE said. For example:
an ice-cream contains around 175 calories;
a pack of crisps contains around 190 calories;
a chocolate bar contains around 200 calories; and
a pastry contains around 270 calories.
PHE is promoting the Change4Life campaign, which says children should eat just two snacks per day and that they should contain just 100 calories each. This does not include fruit and vegetables, as children should eat more of these to reach their "five a day" quota.
Dr Alison Tedstone, chief nutritionist at PHE, said: "The true extent of children's snacking habits is greater than the odd biscuit or chocolate bar. Children are having unhealthy snacks throughout the day and parents have told us they're concerned.
"To make it easier for busy families, we've developed a simple rule of thumb to help them move towards healthier snacking – look for 100 calories snacks, two a day max."
But how easy is this? IBTimes UK has looked around to find out what snacks actually contain as few as 100 calories, and some relatively easy options do exist.
It is good news if your stubborn child has a sweet tooth - a 13g fun-size Mars Bar contains just 60 calories, far less than the 258 calories of the standard bar, so it may be enough to sate their appetite.
Peanut butter with slices of apple could also do the trick, as 12g (1 teaspoon) of peanut butter is about 70 calories.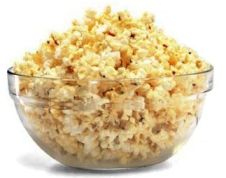 The NHS Choices website suggests a cheese and tomato toastie for a 93 calorie snack - but be aware this requires using crispbread rather than your usual white or brown, and just 15g of low-fat cheese.
It also states that 20g of homemade popcorn contains just 89 calories - but if you are not the sort of person who makes your own, be warned that one 60g bag of Butterkist sweet and salted microwave popcorn contains 255 calories.
A hard-boiled egg can be around 60 to 80 calories, 100g of Alpro Soya natural yoghurt is 50 calories, one crumpet is around 90 calories (but don't forgetfully smother it in golden syrup), and a Nairn's Scottish oatcake is 48 calories, so your child can have two.
And do not forget fruit and vegetable items can be added on top of these, so kids can eat as much as they to reach five a day.