To protect the personal data of British citizens while reducing the "safe spaces" that criminals and terrorists have to communicate on the web, the UK government has reiterated plans to introduce new data protection legislation and a fresh digital charter, it has emerged.
Confirmed by Queen Elizabeth II during the annual speech to parliament (21 June), outlining what ministers hope to achieve in the coming year, the laws aim to upgrade what the government claims is a "world-class regime" when it comes to protecting personal information.
Confused? Here's what we know so far.
The new data protection law will enforce the Conservative Party's manifesto pledge to give teenagers the right to demand social networks delete any information held about them shared before the age of 18, while working alongside incoming EU legislation, the General Data Protection Regulation (GDPR).
It will replace the Data Protection Act 1998.

According to an 82-page policy document published following the Queen's speech detailing the hopes of the Tory government, the new data protection bill will retain the exchange of information with between law enforcement across borders.
The prospect of a communication breakdown following the decision to leave the EU was a major concern for police and security services, which work together on a daily basis to curb terrorism, cybercrime and dismantle illegal operations.
The powers of the Information Commission's Office (ICO), which can fine firms up to £500,000 following major data breaches, will also reportedly be upgraded.
"The new rules strengthen rights and empower individuals to have more control over their personal data, including a right to be forgotten when individuals no longer want their data to be processed, provided that there are no legitimate grounds for retaining it," the document stated.
What is this so-called digital charter?
In the speech in parliament, the Queen relayed the claim it will ensure the UK is the "safest place to be online." Such vagueness from MPs will no doubt be concerning to technology firms and service providers, which are already having to enforce new UK surveillance rules.
The new digital charter takes direct aim at companies like Facebook and Twitter, often accused of inadvertently aiding the spread of terrorist propaganda. "We will make sure that technology companies do more to protect their users and improve safety online," the government stated.
"We strongly support a free and open internet," the document continued.
"But, as in the offline world, freedoms online must be balanced with protections to ensure citizens are protected from the potential harms of the digital world. We will not shy away from tackling harmful behaviours and harmful content online – be that extremist, abusive or harmful to children."
The previous Tory manifesto said the plans will include sanctions on firms found to be non-compliant with the law. "Some people say that it is not for government to regulate when it comes to technology and the internet. We disagree," the political party wrote back in May.
Free speech protections
Jim Killock, executive director of the Open Rights Group, a UK-based privacy and free speech organisation, commented: "We need to ensure that internet companies have as much incentive to fully protect free speech as they do to remove illegal content.
"We would hope that a digital charter's regulatory framework will include independent or judicial oversight of material that is taken down by internet companies. This will help to ensure that we do not simply place the free speech of UK citizens in the hands of private companies."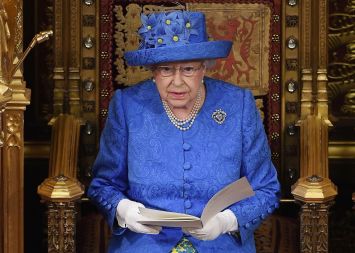 The commitments to further control the internet comes less than a month after both UK prime minster Theresa May and home secretary Amber Rudd voiced their opposition to strong encryption – used in applications like WhatsApp to protect users' communications from prying eyes.
The problem, according to the UK government, is that its own intelligence agencies are also blinded.
"[Encryption] is completely unacceptable. There should be no place for terrorists to hide," Rudd previously told the BBC. "We need to make sure organisations like WhatsApp, and there are plenty of others, don't provide a secret place for terrorists to communicate with each other."
As noted, the UK's Investigatory Powers Bill (Snoopers' Charter to some) already forces service providers to store data for 12 months, while giving security services unprecedented legal backing to hack into devices. It seems these two new bills, if enacted as described, may go even further.