What you need to know about Ukip and the extra £16bn on defence spending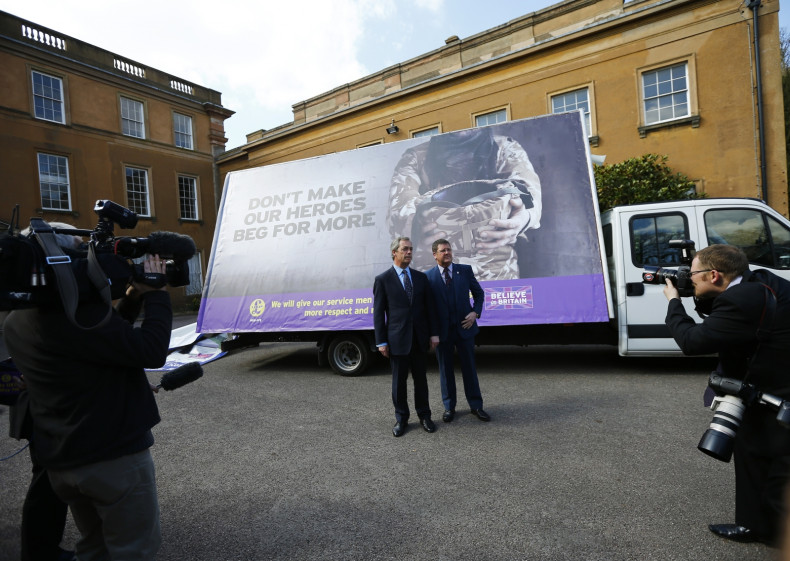 Ukip plans to win over patriotically minded voters ahead of the general election with a number of big promises on defence spending and veteran affairs.
Nigel Farage travelled to the Black Country on 7 April to announce the commitments alongside his party's defence spokesman Mike Hookem, the MEP for Yorkshire and North Lincolnshire.
The Ukip leader claimed that ever since of the fall of the Berlin Wall in 1989, politicians have been looking to "cut our defences" and the Westminster parties think this policy is acceptable.
Farage argued they take this position because they falsely believe "there are no votes in defence, people don't care about defence and it doesn't really matter".
"I have to say that Ukip believes that is wrong. We believe it's wrong in principle because, actually, it is the first duty of government to defend the realm," the MEP for the south east of England said.
"But it's also wrong in practice because actually people in this country do care hugely about defence, about our ability as a nation to defend ourselves, about our ability as a nation to defend our commitments around the world, perhaps with the Falklands being in the foremost to many people's minds.
"So people do care hugely about it and perhaps they care even more about the well-being of the men and women that serve in our armed forces and especially the way in which they are treated. Or perhaps in many cases sadly ignored when their service is over."
Defence spending increase
Farage and Hookem, with 30 days to go before the general election, went on to outline their party's election pledges on defence, including spending 2% of the UK's GDP per year on the area in order to meet the country's Nato defence spending commitment.
The move would mean the Treasury would have to spend an extra £16bn ($23.8bn) over the next parliament, which would be funded by a cut in the UK's overseas aid budget.
. @nigel_farage speech: First duty of government is to defend the realm https://t.co/MjnQuskW2Y

— Ian Silvera (@ianjsilvera) April 7, 2015
Minister for Veterans
The party also promised to create a Veterans' Administration, with a dedicated Minister for Veterans. The minister would report directly to the Cabinet Office, not the Ministry of Defence, and would ensure "funding for veterans stays with veterans". Ukip took inspiration from Canada for the policy, which has dedicated department for pensions and services for war veterans.
Military hospital
Farage also revealed Ukip wants to re-establish at least one dedicated military hospital to help veterans who served in Iraq and Afghanistan, especially for those with mental ill health.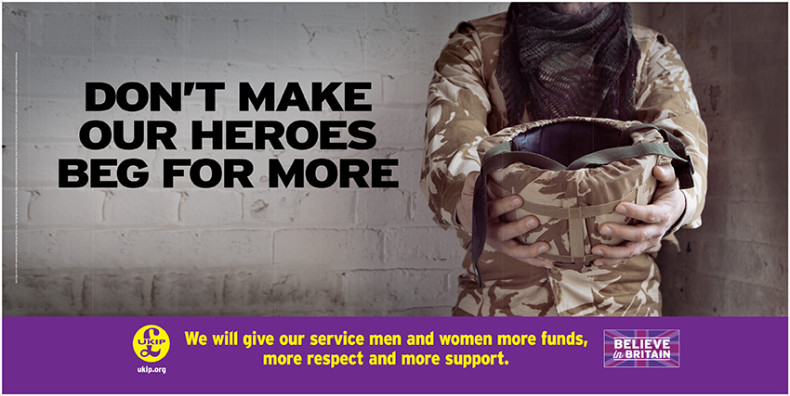 National Defence Medal
In addition, the spokesmen revealed a Ukip government would also create a so called "National Defence Medal", which would cost "a few hundred thousand pounds" and honour everyone who has served in the armed forces.
Playing politics?
A Conservative spokesman argued Farage and Ukip were "playing politics with the military in a calculated and completely irresponsible way" and alleged the party had promised to fund services with a cut to overseas aid 15 times.
He added: "We've balanced the defence budget after inheriting a truly enormous black hole from Labour. We have the second largest defence budget in Nato after the United States and will spend over £160bn in the next decade on new military equipment."