Months after speculations emerged of popular instant messenger WhatsApp introducing video calls on its platform, the first screenshots in tandem with the rumour have emerged. The screenshots from a beta testing version of the app, reflecting a Video Call button in the connecting options, indicate the feature may be rolled out in the next update for WhatsApp, the date for which is still unknown.
PhoneRadar, which got hold of some screenshots of the beta version of the app for iOS, reported how a video camera icon, just like the one in Facebook Messenger, is placed on the top right corner of the chat window. Additionally, one can also select the Video Call feature from a list of connectivity options like call or message a contact.
The screenshots have emerged from the current beta version available for iOS devices, i.e., 2.16.3.523, and if WhatsApp does rollout the feature in the immediate next update, it will be for version 2.16.3.525. Only in 2015, the company had introduced the voice calling feature, first for Android devices and later for iOS devices.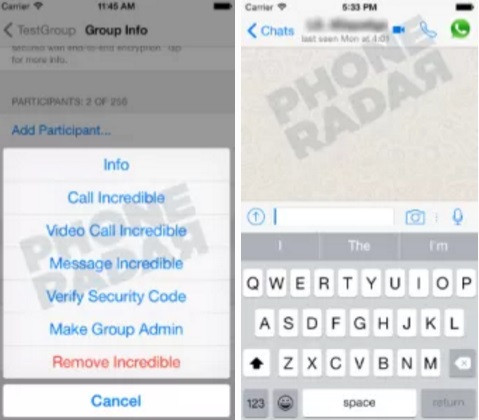 Since Facebook took over WhatsApp, the tech giant has tried to bring a host of similarities between its own native platform Facebook Messenger and WhatsApp. Facebook Messenger, for instance, introduced a group calling option in April and we can expect that in the future the company may contemplate to do the same for WhatsApp too. Other than this, reports also indicated last year that two other features of Call Back and Voice Mail may also be inducted into WhatsApp soon.
The last update for WhatsApp introduced file sharing support for formats like PDF, VCF, DOCX and DOCS. The next update will apparently also involve WhatsApp bringing the ZIP format support for file sharing, where one can compress a large file, thus helping in decreasing data usage.