Yes, the last Friday of November is looming large in the calendar once again, and with it comes the so-called 'Black Friday'.
Although it may not unleash piranha-like feeding frenzies in shopping centres up and down the UK like our US counterparts, it is bound to be a huge deal for online shopping web sites.
Amazon have been the first out of the blocks in the UK this year, with The Black Friday Sale billed as 12 days of pre-Christmas offers from 14 to 25 November.
E-commerce consultancy Salmon predict that the extended weekend from 24 November to Cyber Monday on the 28th could see a potential £5bn spend by British shoppers, following £3.3bn spent over the same weekend in 2015. More than half of the weekend's buying took place on Black Friday itself last year, totalling £1.9bn (see Chart 1).
Categories with the best deals: Electronics of course
The best deals this year are expected to be, once again, brand-name electronics such as flat-screen TVs, Apple iPhones, gaming consoles and fitness trackers.
But beware: Black Friday sales are typically filled with non-brand name electronics, to sate the appetite of consumers who want cheap stuff at cheap prices.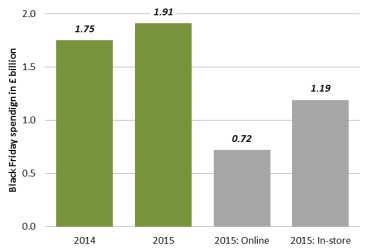 So if you want something very specific and high end, then Black Friday may in fact not be the best time to go shopping. If, on the other hand, you are happy to buy a tablet computer that is not an Apple iPad, then you may find yourself a veritable bargain.
Where you are unlikely to get good deals: luxury items, clothing, high-end laptops
The whole point of luxury goods is that they can be sold for high prices that afford their manufacturers high-profit margins – so don't go expecting to see big discounts on jewellery or high-end watches, for instance. This even goes for high-end laptops (eg. gaming laptops).
Equally well, clothing is not generally heavily discounted around Black Friday, so fashion-oriented shoppers might be better waiting for the January sales.
Some tips to follow Back Friday online deals
The first tip is actually one I repeat every year: to avoid impulse buying something you later regret, start by making a list of the presents you would like to buy over the Black Friday period for family, friends and yourself.
Secondly, to avoid having to scout around a long list of websites yourself, use a website that keeps tabs on the best deals, such as HotUKDeals.
Some good early Black Friday deals
So what deals are available so far?
At amazon.co.uk, there are some good deals on electronics such as:
While not precisely a Black Friday deal, Argos is putting out some interesting deals too:
For those looking to get into the retro vinyl revolution and spin some 33" discs, recording the music on a digital format on your computer, then Richer Sounds has a great deal on:
the Ion Classic USB turntable, down to £49.95 from £79.799 previously
But remember, before clicking on what looks like an attractive Black Friday deal online, ask yourself the following questions:
Do I really want/need this purchase, either for myself or as a present? Or is it simply an impulse purchase that you might regret later on?
Do other people think this is a good product – check reviews, not just on Amazon (as these are sometimes "paid" reviews) but also independent reviews eg. on Trustedreviews.com or on Which?
Is it really a good offer price? Have you checked rival websites to establish that this is indeed cheaper than anywhere else?
Can I return the goods within 14 days if I subsequently change my mind, without any problems?