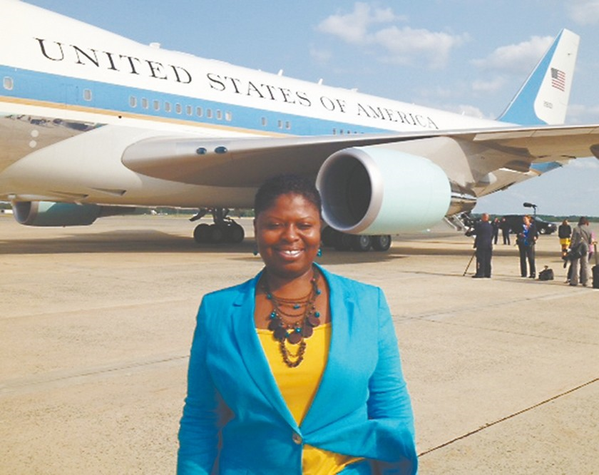 A White House staffer charged with firing the weapon of her off-duty US Capitol Police officer boyfriend has been placed on leave. Authorities said the domestic incident did not result in any injuries.
According to Associated Press, Prince George's County Police were called to an Upper Marlboro, Maryland home on 7 August over a reported shooting. The White House staffer, identified as 37-year-old Barvetta Singletary, allegedly fought with her partner, grabbed his service weapon from a bag and fired one round.
Charging documents revealed Singletary sent her boyfriend a text message inviting him over for sex. After the two had sex, Singletary reportedly confronted her boyfriend about another woman he was dating.
After Singletary asked her partner to step outside, the two headed to his car where an argument ensued, NBC Washington reported. Police said Singleton asked to see her boyfriend's mobile phone and reached into his bag when he refused. She grabbed his two cell phones, as well as his .40 caliber Glock 23 service weapon, according to the charging documents.
NBC Washington reported Singleton then ran back into her home, where her boyfriend pleaded with her to return his gun. However, she instead insisted he give her his phone passwords, which he refused to do. Singleton then took the gun out of its holster and pointed it at her boyfriend.
"You taught me how to use this. Don't think I won't use it," she said, according to the arrest warrant. When he again refused to give into her demands, she said: "Your phone is more important than me holding the gun on you."
She then pointed in his direction and fired one round. The victim called police and told them he witnessed Singletary wipe the gun down with a towel.
Singletary was charged with assault and reckless endangerment. The special assistant to the president and legislative liaison at the White House was placed on unpaid leave and had her access to the White House revoked.
A spokeswoman for the Capitol Police told POLITICO: "We are investigating the matter, mindful of the underlying criminal investigation. Department employees are held to a high standard of conduct and the matter will receive a thorough review consistent with our policies and procedures."