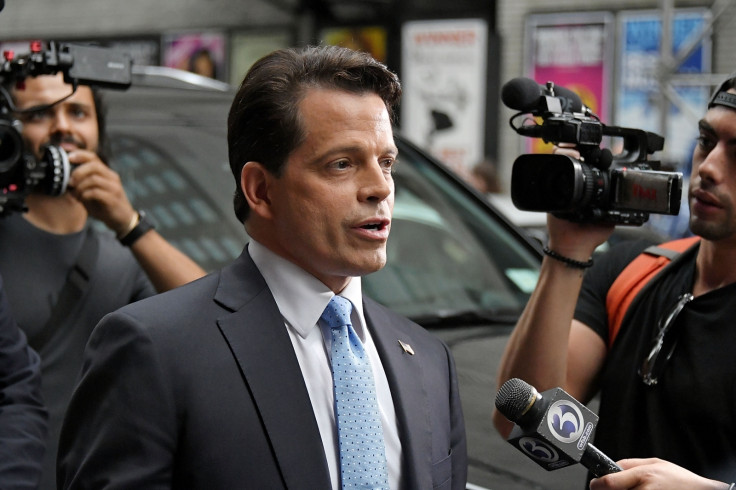 Fans of Stephen Colbert and The Late Show were in for a special treat after CBS managed to bag an exclusive interview with the recently fired White House Communications Director, Anthony Scaramucci. The highly anticipated episode aired on 14 August, during which the host questioned the former Trump administration member about the president's recent remarks in regards to Charlottesville, his time at the White House and his opinion of the president's Chief Strategist Steve Bannon.
Given The Mooch's penchant for shooting fireball comments, one could very well expect the interview to be an interesting one, and it definitely was.
"Ladies and gentlemen, my first guest tonight is the shortest tenured communications director in White House history," Colbert introduced his guest before the studio's audience booed Scaramucci as he took his seat.
"I'm like Arya Stark. I took a list of all your comedy writers... for my kill list," he joked, making a reference to Game of Thrones that did not go down well with many of the HBO drama's fans. In response, Colbert asked if he was comedically threatening to kill his staff.
(PS: He later compared himself to the Lannisters as well.)
"I can't joke anymore... I've learned that" The Mooch interjected. "This conversation is off the record," he added, referring to his explicit conversation with a reporter from The New Yorker which ultimately led to his firing.
But the investment banker came prepared for some jokes about his time under Trump and laughed off the host's teasing replies.
The two soon got down to the big questions, the first of which was Trump's weak response to the Charlottesville attack. Scaramucci said he believes the president's comments were not influenced by anyone else but stressed that he is a compassionate person. He later added that it was probably Trump's instinctive reaction to the media that held him back from making a statement sooner.
"Two days later," Colbert pointed out. "Does he order his spine on Amazon Prime?"
The discussion immediately moved on to the Long Island native's time at the White House during which he confirmed that there was a lot of "in-house fighting" and repeated his comments that he thought that the former Chief of Staff Reince Priebus and Bannon were leaking information to the press.
Watch the complete interview on CBS All Access or check out snippets below: