Amateur internet detectives keen to publicly shame white nationalists that took part in the deadly Charlottesville rally mistakenly identified an innocent scientist forcing him and his wife to flee their home.
Kyle Quinn, a researcher at the University of Arkansas, was enjoying a normal Saturday on 13 August when he began to receive a flood of online abuse from people accusing him of being a racist. It quickly became clear that he had been mistaken for another bearded white man, who was photographed carrying a torch through the University of Virginia on Friday night with crowds of others alt-righters.
"You have celebrities and hundreds of people doing no research online, not checking facts," Quinn told the New York Times.
Several of those who gathered in Charlottesville on Friday and Saturday to protest the removal of Confederate General Robert E. Lee's statue from the city have been outed on social media by a cadre of amateur sleuths.
This has led to some losing their jobs or being disowned by their families. Often individuals' addresses are made public, with threatening implications, in what is known as "doxxing".
But Quinn was nowhere near the far-right protesters, who reportedly chanted "Jews will not replace us" while carrying torches at the Unite the Right event. On Friday night he was 1,100 miles away in Bentonville with his wife enjoying an exhibition at the Crystal Bridges Museum of American Art before getting a meal in a restaurant.
Quinn has dedicated his life to researching wound-healing at the university's Engineering Research Center and was ironically implicated in the rally because the other man was wearing an "Arkansas Engineering" T-shirt.
The internet investigators lined up a picture of the marcher and Quinn's professional profile then decided the pair looked similar enough.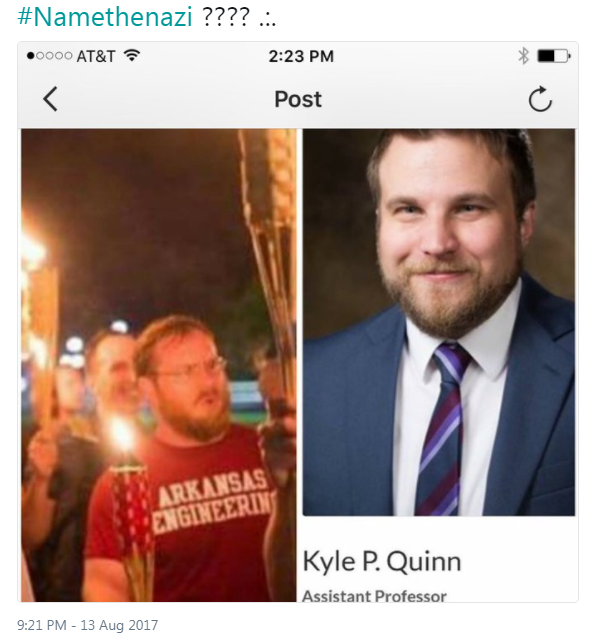 In a flash, thousands of people were sharing Quinn's home address and demanding he lose his job. He was flabbergasted. "I've dedicated my life to helping all people, trying to improve health care and train the next generation of scientists," he said. "This is potentially throwing a wrench in that."
The public outing of participants in the Charlottesville rally, which resulted in the death of a counter-protester, led to the disowning of one young man by his family.
Peter Tefft of Fargo, North Dakota was denounced by his father Pierce in a statement on Monday, which read: "I have shared my home and hearth with friends and acquaintances of every race, gender and creed. I have taught all my children that all men and women are created equal. That we must love each other all the same.
"Evidently Peter has chosen to unlearn these lessons, much to my and his family's heartbreak and distress. We have been silent up until now, but now we see that this was a mistake. It was the silence of good people that allowed the Nazis to flourish the first time around, and it is the silence of good people that is allowing them to flourish now."
Other targets included Cole White, was fired from his job at a hot dog restaurant in California after having his image shared widely by social media accounts including the Twitter handle @YesYoureRacist.
James Alex Fields, 20, was arrested after allegedly driving into a group gathered to counter-protest against the white supremacist rally on Saturday, killing one and injuring 19.