Diane James has been elected as the new leader of Ukip after Nigel Farage stood down following the EU referendum. James won the leadership election with 8,451 votes, beating her nearest rival Lisa Duffy by more than 4,000 votes.
The deputy chairman of the party and MEP for South East England since 2014 became the bookies' favourite to replace Farage as party leader after former front runner Steven Woolfe ran into a series of difficulties while attempting to get his campaign going, including submitting his leadership application late.
The 56-year-old came to prominence after almost winning 2013's Eastleigh by-election, receiving 27.8% of the vote, putting the Tory party's Maria Hutching into an embarrassing third place.
She stood down from her bid to become MP for North West Hampshire during the 2015 general election for personal reasons.
A description on her official website reads: "Initially trained as a business analyst, then specialising in healthcare strategy development, innovation and business transformation, Diane understands that elected representatives need to be held accountable."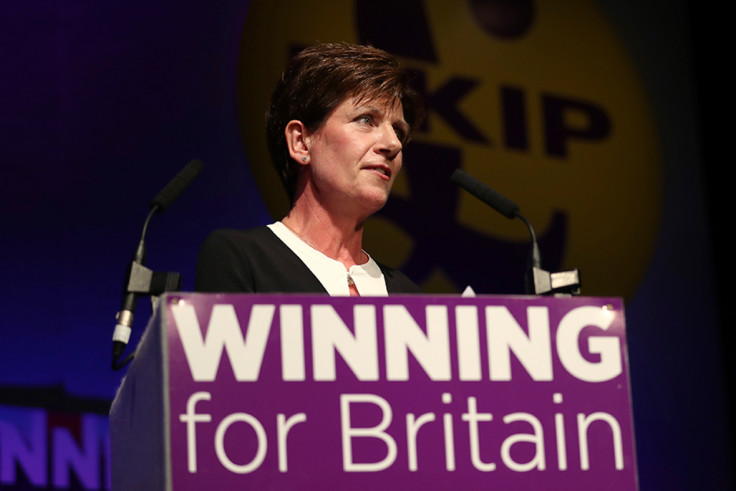 In 2015, she was criticised for praising Russian president Vladimir Putin for his "nationalist" leadership. During an interview with LBC Radio, she said: "I admire him from the point of view that he's standing up for his country. He's very nationalist. I do admire him. He is a very strong leader."
During the 2013 by-election in Eastleigh, she apologised for her comments regarding "crime associated with Romanians". She said the comments were not meant to be a "generalisation against every single individual born with a Romanian passport".
Earlier at the Ukip party conference, Farage promised "not to meddle" when the new leader was announced as he gave his final speech for the party. He added: "My job is not to try and influence but my job will be if that leader wants any help and advice then, make no mistake about it, I am still four-square behind this party and its aims."