Diane James has been unveiled as Ukip's new leader at the party's conference in Bournemouth this afternoon (16 September). James, 56, beat four other candidates to be elected Nigel Farage's successor.
"I am not Nigel-like, I am not even Nigel-lite. I'll never ever pretend
to be so," she said. "What I will be doing is stepping into his leadership shoes, but I will be doing everything to achieve the political success that he's handing over to me."
The Ukip deputy chair and home affairs spokeswoman was ranked favourite after the party's migration spokesman, Steven Woolfe MEP, was blocked from the final ballot.
North East MEP Jonathan Arnott also dropped out of the race, conceding that he could only hope for second place.
James' stiffest competition came from Lisa Duffy, a Cambridgeshire councillor who had the backing of party heavyweights Suzanne Evans and Patrick O'Flynn MEP.
The candidates represented the two warring factions within Ukip, the so called 'Faragists' and those critical of the former leader. Deputy leader Paul Nuttall urged Farage's successor to stop the in-fighting, as he addressed Ukip members today.
James will inherit a party that won more than 3.8 million votes at the general election, has 488 councillors, 22 MEPs, six Welsh Assembly members and two London Assembly members.
But its main goal, of leaving the EU, has been achieved and Theresa May has promised to lift the ban on new grammar schools in England, another one of Ukip's flagship policies.
Former media chief Alex Philips and ex-party director Steve Stanbury have already defected to the Conservatives over the last few days.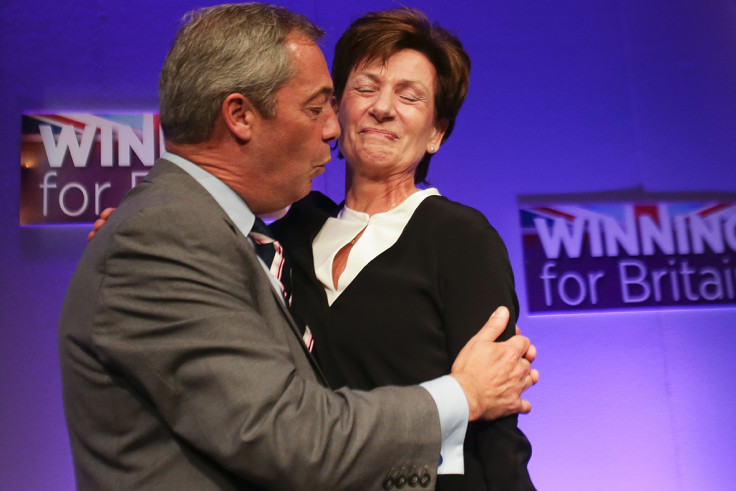 As for Farage, he still plans to lead Ukip in the European Parliament, but he promised to stay out of James' way.
Mr Farage was given a hero's welcome as he spoke at his final Ukip conference as leader.
He told the rapturous audience: "Today closes the chapter of what has been a very extraordinary few years. I honestly, looking back, could never really have dreamt that we would have achieved what we have.
"I have put absolutely all of me into this. I literally couldn't have worked any harder or couldn't have been more determined. In a sense, I guess it has been my life's work to try to help get this party to this point.
"I frankly don't think I could do any more. I think, folks, I've done my bit. "I want my country back, but now folks I want my life back."
Speaking of the future, the Eurosceptic firebrand said."My job is not to try and influence but my job will be if that leader wants any help and advice then, make no mistake about it, I am still four-square behind this party and its aims."
Mr Farage received a standing ovation from the conference centre as he walked out to the sound of David Bowie's Heroes.
Excerpt from James' speech
Under my leadership, UKIP will be utterly focused on:
NO to EU associate membership.
NO to Brexit- lite.
NO to Single Market controls.
NO to unrestricted and uncontrolled freedom of movement into this country for 450 million EU citizens.
YES to true EU exit.
YES to a sovereign independent UK.
YES to a UK free to make trade deals with whoever and whenever.
Yes to controlled immigration allowing entry regardless of origin to those with the skills & expertise this country desires.
Conference, nothing short of this is acceptable to UKIP and the 17.4 million people who voted Leave in the EU Referendum.
This is what Independence means and this is what the independence in Ukip name stands for!