Described as the "most physically gifted player" in golf, Dustin Johnson is one of the best golfers in the game today.
With at least one win every year since he became a professional, Johnson is well on his way to becoming one of the greatest in the sport. Here's everything we know about the 2016 US Open champion.
Key facts about Dustin Johnson
Full name: Dustin Hunter Johnson
Date of birth: 22 June 1984
Birthplace: Columbia, South Carolina
Net worth: $20m
Height: 6 ft 4 in [193cm]
Weight: 190lbs
Nickname: DJ
Twitter: @DJohnsonPGA
Instagram: @djohnsonpga
Facebook: Dustin Johnson
Who is Dustin Johnson?
Johnson was born in Columbia, South Carolina. The son of PGA pro, Scott Johnson, "DJ" was introduced to golf at the age of six, as he watched other golfers at the Weed Hill Driving Range.
Soon enough, he wanted to participate as went under the wing of another PGA pro in Jimmy Koosa, who had taught Johnson's father as well.
Although he also played basketball and baseball growing up, Johnson eventually found golf to be his passion as he excelled as a teenager, participating in a South Carolina city tournament twice, winning both times and impressing former PGA pro and then coach Steve Liebler.
He then went on to play collegiate golf at Coastal Carolina University from 2003 to 2007, until he turned professional in 2007. He qualified for his first PGA tour the following year and tied for the 14th place at the 2007 qualifying school.
The first of many honours in Johnson's trophy cabinet came at the Turning Stone Resort Championship in October 2008 before the South Carolina native won his second event at the AT&T Pebble National Pro-AM, just four months later.
Although he has 15 wins under his belt so far, it took Johnson nine years to win his first major championship in the US Open and the 32-year-old will be looking to add more trophies to his cabinet and cement his legacy in the sport.
Dustin Johnson's career highlights
October 2008: Won his first title at the Turning Stone Resort Championship by one stroke.
February 2009: Won his second title at the AT&T Pebble Beach National Pro-Am by four strokes. By the end of 2009, he was ranked 15th on the PGA Tour money list.
October 2010: Finished the year off with victories in the AT&T Pebble Beach National Pro-Am again, the BMW Championship and his first Ryder Cup.
July 2011: Earned his best finish in the 2011 Open Championship, tied for second with Phil Mickelson, just three strokes behind the champion Darren Clarke.
September 2012: Won the FedEx St Jude Classic and his second Ryder Cup.
November 2013: Won his first World Golf Championship with a three stroke win over Ian Poulter at the World Golf Championships-Dell-HSBC Champions.
March 2015: Returned from a six-month hiatus to win the 2015 World Golf Championships-Cadillac Championship, moving him up to seventh in the world rankings.
June 2016: Won his first major championship in the US Open, moving up to number three in the world rankings.
October 2016: Won his third Ryder Cup.
February 2017: Won the Genesis Open and later leapfrogged Jason Day to become world number one for the first time, becoming just the sixth American to accomplish the feat.
March 2017: Won the World Golf Championships-Dell Technologies Match Play, making him the only player in golf history to win each of the four World Golf Championship events.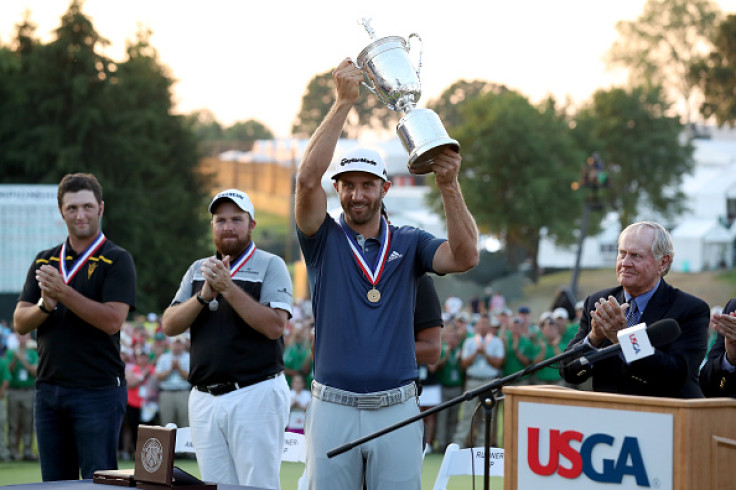 What is Dustin Johnson's net worth?
According to COED, Johnson is worth an estimated $20m while his total earnings are $44m according to ESPN, making him seventh in the all-time money leaders in golf.
Is Dustin Johnson married?
In August 2013, Johnson got engaged to singer Paulina Gretzky, daughter of former Canadian ice hockey player Wayne Gretzky. The couple became proud parents to son Tatum Gretzky Johnson in January 2015 and they recently announced in February 2017 that they were expecting another boy.
As of now, the two have still not married, having claimed that they had tried to do so in the fall of 2015, but were unable to do so because of their hectic schedules.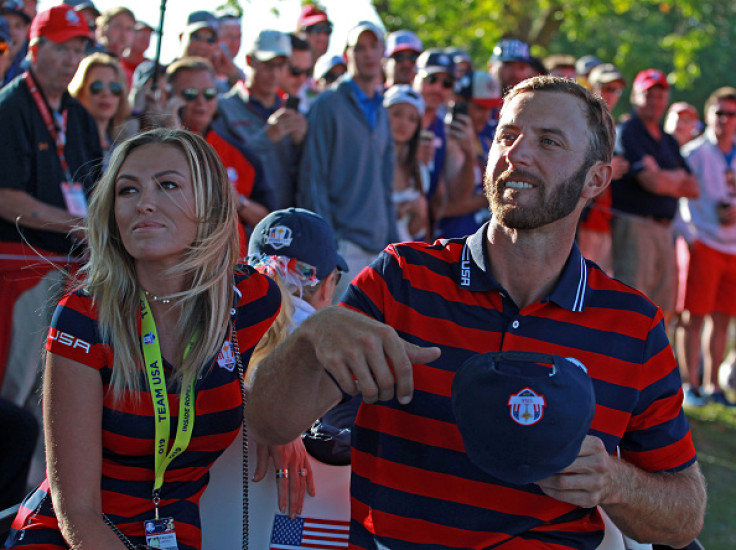 Why did Dustin Johnson take a break from golf?
Johnson took a six-month break from golf on 31 July 2014, stating that he needed time off to seek professional help for his personal challenges. Golf Magazine had reported that Johnson had been suspended from the PGA Tour for six months after testing positive for cocaine, not for the first time either as he had tested positive in 2012.
However, PGA Tour officials claimed that Johnson took voluntary leave and was not suspended, with "DJ" denying any involvement of drugs.
"I did not have a problem [with drugs]. It's just something I'm not going to get into. I have issues. But that's not the issue," he said, as quoted on GOLF.com.
What is Dustin Johnson's swing speed?
Johnson has an average swing speed of 122mph with his fastest swing speed coming at 126mph.