A porn star who was reportedly paid a six-figure sum to stay silent about her relationship with Donald Trump in 2006, has revealed details of their alleged affair to a US journalist.
Stormy Daniels, real name Stephanie Clifford, spoke to the editor of Slate magazine, Jacob Weisberg, several times about her relationship with the US president. She cut off all contact with Weisberg a week before the US election in November 2016.
In an article published on Tuesday (16 January), Weisberg revealed the details of his conversation with Daniels.
The porn star told Weisberg she had met Trump at a celebrity golf tournament in Nevada in 2006.
The billionaire invited her to his hotel room and the two started a sexual relationship that lasted almost a year, according to Daniels.
Eighteen months before their meeting, Trump had married his wife Melania.
Daniels allegedly told Weisberg that she had negotiated a six-figure settlement with Trump's lawyer, Michael Cohen, in exchange for her silence about their relationship. The negotiation reportedly involved an agreement to shield the names of both parties.
"Daniels said she was talking to me and sharing these details because Trump was stalling on finalising the confidentiality agreement and paying her," Weisberg wrote in his Slate article.
"Given her experience with Trump, she suspected he would stall her until after the election, and then refuse to sign or pay up," he said, adding that Daniels had given multiple examples of times the businessman had broken promises in the past.
"She claimed he'd offered to buy her a condo in Tampa, Florida, and that he'd said he wanted to feature her as a contestant in an upcoming season of Celebrity Apprentice," Weisberg wrote.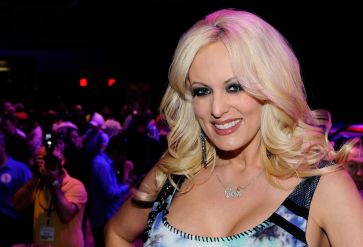 Daniels said that an additional motivation for going public with her story, was Trump's newfound opposition to gay marriage and abortion, according to the article.
She also suggested to Weisberg that Trump was not very accomplished in bed. "She intimated that her view of his sexual skill was at odds with the remark attributed to Marla Maples," Weisberg recalled and linked to a Reddit post featuring Maples infamous' quote about her relationship with Trump: "Best sex I've ever had!"
Daniels' friend and fellow porn star, Alana Evans, corroborated reports of a relationship between the pair.
She told Megyn Kelly on Tuesday (16 January) that Daniels had called her in 2006, inviting her to join an encounter in Trump's hotel room.
"This was 2006, he wasn't president, there was nothing in the foreseeable future at that time that looked like that was going to be the future," Evans said on Megyn Kelly Today.
Trump's lawyer Cohen has denied that the US president had a sexual relationship with Daniels and said that reports of "hush money" are completely false.
The White House did not respond to requests for comments about the Slate article and Evans' comments.