The Game Baftas Are Brilliant - Computer games deserve this kind of representation
Without fail, I get up late every morning. If I want to shower, dress and do my shoes up on time to get the 9:48 Tube, I need to be out of bed at 9:20, but almost invariably, I slouch in bed reading Cracked until, I dunno, 9:26 or some ungodly hour, before bumping my way into the bathroom, chucking some toothpaste down by gob, putting my pants on backwards, forgetting my bag and running out the door.
I'm not very organised is what I'm saying, and I only have to look after one thing. So God knows how the BAFTA people manage it. I was at the ninth British Academy Games Awards last night - the first time I'd covered a ceremony like it - and was amazed at how ruddy well the whole thing was put together.
There was a really nice buffet with sandwiches and drinks, a big board updating the press room on all the winners and a veritable squadron of friendly PR reps hotfooting around, helping writers from one interview opportunity to the next.
PR people get a bad rep in the press. Ostensibly they're officious, gabbling corporate fibbers, constantly trying to put themselves between journalists and "The Truth." But "The Truth" is that without public relations people, at BAFTA especially, a lot of gaming's press packers would be stuffed.
Myself very much included, game critics are generally, shy, introverted, pipsqueaky types, scared to ask Jonathan Ross for a reaction quote in case he ignores them like the Big Boys did at school. Particularly for me, a relatively short guy with daddy issues, attending the game BAFTAs for the first time, the prospect of snagging VIPs on the red carpet like some bloody pappo terrified me, so thanks - really, seriously, thanks - to everyone working in the Park Lane Hilton last night.
Cross-section
I'm sorry if this sounds a bit twee and a bit pleasant, and a bit like the kind of unbearable conversation you'd overhear at some boring business conference which, before we get started would like to take some time to thank the caterers, but last night's BAFTAs were really just...nice; they were good, they were fun.
After the total presstastrophe I had at the PS4 launch where the conference Wi-Fi proved harder to connect to than a long-lost son, it was an enormous relief - and a really impressive achievement - that everything went so smoothly. And, yeah, that's down to the PR folk, so well done them.
A more cynical writer than myself (ie myself but with an hour's less sleep than I got last night) might have something to whinge about re the videogame Baftas, probably along the lines of "why should games suck up to the general public?" or "games don't need validation from the film industry." But that's bunkum.
Aside from the bullet-train efficiency of the red carpet, and the tuna sandwiches with the crusts cut off, what was most impressive about last night was how much dedication the event had to game industry insiders. One after another they came, from A-listers like Assassin's Creed's Alex Hutchinson right through to independent game-makers like Starcrossed's Kimi Sulopuisto, and lesser known studio craftsmen like Christophe Carrier.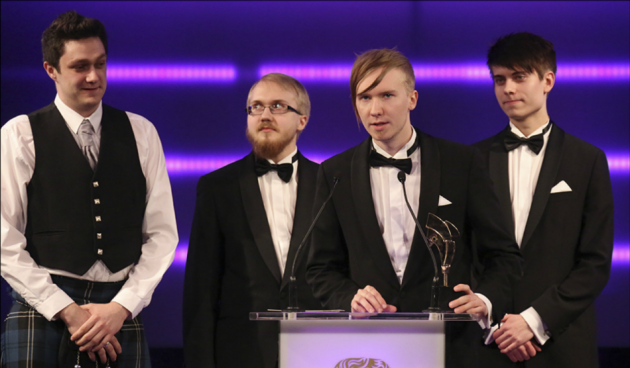 Contrary to my suspicion that glitz and celebs would take centre-stage, there was an amazing cross-section of development talent at the Baftas. This wasn't an "us too" kind of ceremony; it was, genuinely, a celebration of videogames.
What games need
And that's what games need. Instead of subsidised naff like Ant and Dec jigging around on the Wii - the kind of pleading froth-verts that say "hey, real people play games too!" - what gaming needs and what the Baftas give it, is confidence.
The industry shouldn't be afraid of showing off games like Assassin's Creed, Dishonored and Far Cry to the general public; it's not just throwaway half-games like Angry Birds that non-gamers are going to find interesting. I think it's really patronising to assume that "casual" gamers won't get interested or excited by first-person shooters or RPGs. It's not just accessibility and cheapness which are exciting - creativity, and genuine, pervasive talent are fascinating to people whether they play videogames are not.
And if events like Bafta continue to let those things bleed into a broader consciousness, buoyed, if needs be, by the occasional appearance from Wossy, then what an excellent thing that would be.
So, yeah, the videogame Baftas were very good. They were immaculately organised and sent out precisely the right message about videogames, that real creativity, whether you can play it on the iPhone with your mum or not, is something worth celebrating.
And there was free beer. And Gabe Newell.