Prince William has revealed his favourite meal to cook, after helping judge a charity cook-off involving breakfast mackerel.
William, 35, who admitted his culinary skills aren't quite up to scratch, joked: "I do like cooking but I'm not very good. And someone told me this was a bake-off, not a mackerel-off. I was expecting to get some chocolate cake."
He then joined former MasterChef winner Steve Groves, who is now head chef at Roux, on judging two competing teams of chefs from the Royal Institution of Chartered Surveyors (RICS) and the charity LandAid at a champagne breakfast raising money for young homeless people.
The Duke of Cambridge got chatting to television presenter Angellica Bell, the 2017 Celebrity MasterChef winner, and she asked the royal what his signature dish was.
He told her: "I like a roast. So a bit of roast chicken or a steak. I like it medium rare. I like it quite alive."
Sadly, his pregnant wife Kate Middleton – who is expecting the couple's third child in April – can't indulge in William's special dish due to being unable to eat undercooked meat until she has given birth.
William eagerly judged the teams on their mackerel with citrus dressing, sesame seeds and heritage carrots. He didn't fail to entertain the audience by inspecting one dish and saying: "Is there anything on that?"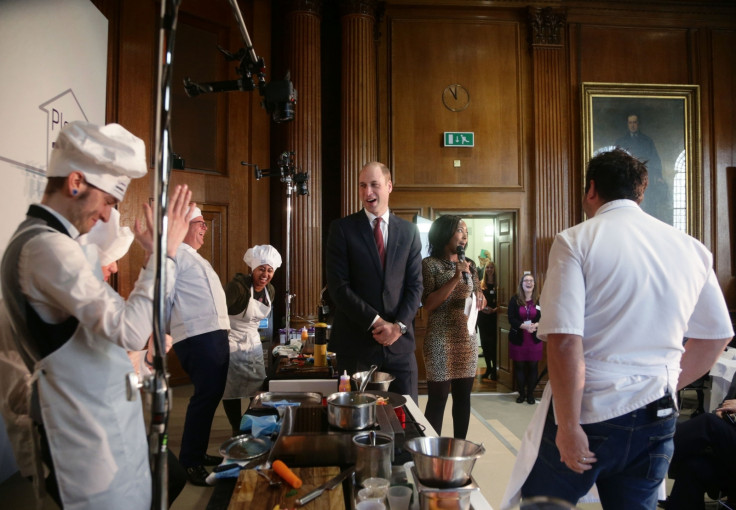 In the end, the team of LandiAid's chief executive Paul Morrish and Sean Marsay – a 26-year-old former homeless man from Scarborough, Yorkshire – were declared the winners by Groves, with input from the second-in-line to the throne.
The event was in aid of raising £2.25m for LandAid – a property industry charity that helps small organisations attempting to combat youth homelessness.
It's no wonder that Prince William was disappointed with the mackerel feast, as it has been reported in the past that he has quite a sweet tooth, and is a big fan of chocolate cake. He even requested it for his groom's cake at the royal wedding in 2011.