Michael Keane is now a full England international. By next season, he could very well be playing for one of the top six clubs in the Premier League. If and when that does happen, Manchester United will surely look upon him as one that got away.
Alongside current first-team squad members at Old Trafford in Paul Pogba and Jesse Lingard, Keane was part of United's Class of 2011 that won the FA Youth Cup – albeit one of the less heralded members of Paul McGuinness' squad that season. Twin brother Will had been regarded the brighter of the two talents, but woeful luck with injuries over the past five years have stunted his trajectory. Michael on the other hand is thriving.
Last year, Keane described his decision to join Burnley in pursuit of greater first-team opportunities as the "best decision of his life." It has certainly been vindicated, with the Clarets' superb season back in the top flight – to which he has been central to – a testament to that. While Keane has stressed the decision to leave Old Trafford was one he took himself, the failed projects that followed his departure suggests United made another huge error in allowing him to leave permanently.
Keane made his league debut game against Sunderland in August 2014, replacing the injured Chris Smalling in the second half as he slotted into a back three alongside Phil Jones and Tyler Blackett. His day of reckoning came two days later; that infamous 4-0 defeat in the third round of the League Cup against MK Dons. That humiliation prompted a squad cull, with 11 of the 16 named in the match day squad that night leaving the club either on loan or permanent deals in the following months.
Keane was one of them, joining Sean Dyche's side on loan with the move becoming permanent the following January for £2.5m. Burnley would go down that season, but Keane was instrumental in their return to the top flight after an outstanding campaign in the Championship in the 2015-16 season.
Following Keane's departure, Louis van Gaal would exasperatingly persist with Tyler Blackett, who made 10 appearances before he was thankfully phased out of the first-team squad in January.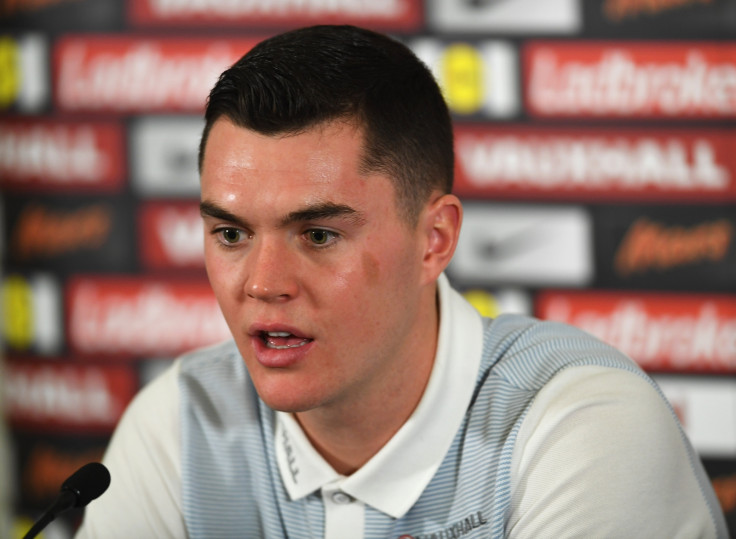 Paddy McNair was also afforded the chances that might have fallen to Keane. The Northern Irishman arguably provided his best performances in a United shirt in his first two senior appearances for the club against West Ham United and Everton. But van Gaal's attempts to fashion a player recognised by many of his youth coaches as a ball-playing midfielder into a centre-half eventually fell through.
After a particularly harrowing outing at centre-half against Southampton in December where he was hauled off after 38 minutes, McNair's chances in the middle were limited before another failed experiment at right-back was eventually abandoned.
Paul McGuinness, the man most responsible for Keane's development, described the defender's departure as an "unfortunate casualty" of the post-Sir Alex Ferguson era at Old Trafford. Ferguson had prepped the youngster for a first-team chance with cup appearances in 2011 and 2012 before loan spells in the Championship with Leicester City, Derby County and Blackburn Rovers.
The oversight that followed is now coming back to haunt them. Van Gaal's insistence on having a left-footed centre-half (Blackett) and one with better ball-playing abilities (McNair) saw his most natural option at centre-half in Keane shunted out. Could anyone blame him for seeking pastures new?
His composed performances in an England shirt against Germany and Lithuania will have highlighted another glaring error by the club who paid £89m to rectify another one last summer. It will cost significantly less for a club in the top half of the Premier League to snare Keane next summer, with his contract set to expire in 2018. United's loss will be someone else's gain.