Tesco's board, or what is left of it, is probably breathing a sigh of relief that Sports Direct and Newcastle United's owner Mike Ashley is betting big on the embattled grocery giant.
However, the owner of a sporting empire is more buffet then Buffett.
Ashley entered into a put option with Goldman Sachs over 23 million shares, leaving the group's maximum exposure to Tesco at £43m (€55m, $70m).
Basically, Ashley will make money if the stock price is over a certain amount by a certain time.
However, if the stock is below a certain price at a specific time, Ashley will have to hold onto the shares and pay for the discrepancy or sell them on at a discount for when he bought them.
He is certainly bucking the trend after professional traders were unapologetic about abandoning the stock.
"Tesco is no longer a viable investment," said Marc Kimsey, senior trader at Accendo Markets.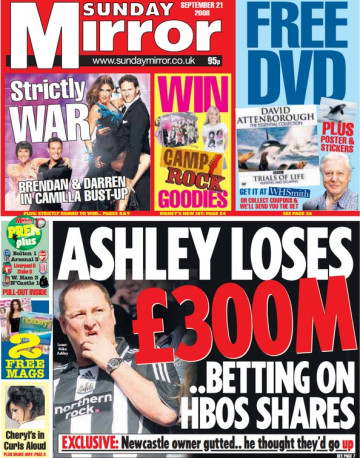 "Traders are clearing the books of all holdings and reallocating funds in sector peers. The last two years have tested investors' patience but with the dividend being cut back and today's revelation, justification to hold is non-existent."
Tesco shares have been hit hard after the group revealed that it had overstated its profits by £250m. The stock price is now 15% over the last five days and down over 41% year-to-date.
History of Bad Bets?
Ashley maybe a larger than life sports mogul, raking in billions of pounds through his retail and footballing empire, however he hasn't exactly got the best track record when it comes to picking stocks.
In 2008, Ashley lost £800,000 for every penny wiped off HBOS' shares, parting with around £300m when the bank plunged into turmoil during the financial crisis.
More recently, Ashley made a similar bet on Debenhams shares earlier this year, by buying a 4.6% stake in the British retailer while also entering a put option over a 6.6% in the group.
"Ashley is up to his old tricks again after entering into another put option agreement, this time related to a 0.28% stake in troubled supermarket Tesco, equating to £43m exposure," said Mike van Dulken, head of research at Accendo Markets.
"Note that on 14 January, Ashley replaced a 4.6% stake in Debenhams after just a few days with the sale of a 6.6% put option with £64m exposure, obliging him to buy at an agreed price on expiry - another bullish bet.
"However, given the difference in stake sizes the assumption was that he wanted to increase his stake in time but was betting on the shares going nowhere for a while, maybe even dip a little with the premium received offsetting some of the loss he'd incur on expiry, simply taking advantage of freeing up stake funds thanks to with the option's lower collateral obligations."
So what are Debenhams shares worth at the moment?
Well they are around 61.90p, some 40% lower than a year ago, after the retailer issued a raft of profit warnings, poor Christmas sales and loss of leadership.
"However, with Debenhams shares down over 25% from their contract date and January highs, could this contract now be so out of the money that its needs hedging via a bet on a Tesco recovery?" notes van Dulken.
Only time will tell if Ashley's punt will result in a bumper payday or a very painful parting of cash.