How much Peppa Pig is worth – and the secret to her popularity
IBTimes UK explores the success of the cartoon, ahead of Peppa Pig: My First Cinema Experience's release.
A national treasure, a familiar friend, a bad influence. These are just a few labels given to Peppa Pig, the star of the omnipresent kid's cartoon franchise.
Toddlers were first introduced to Peppa in 2004 when the show debuted on Channel 5, originally having been snubbed by the BBC. Now worth $1bn, the franchise – broadcast in 180 countries and translated into 40 languages – has become a global phenomenon with memorabilia, clothing lines and even its own tourist attraction: Peppa Pig World.
Breaking America
The children's cartoon, created by Neville Astley and Mark Baker, has also managed to attain that which eludes many UK stars: success in America. Entertainment One, the Canadian film company behind the cartoon recently reported that sales of Peppa Pig-related merchandise in US retail stores – such as Target – topped $200m (£160m) in 2016.
Peppa's global reign was further solidified by the internet going crazy after Harley Bird, the teenager who voices the titular piglet, slipped into character during a recent appearance on This Morning. "My three-year-old is really confused... She can hear Peppa pig but can't see her" – pretty much sums up the Twitter reactions.
Peppa mania will likely kick up a notch when Peppa Pig: My First Cinema Experience, an hour-long movie debuting nine new episodes, is released in cinemas on 7 April.
But like many success stories, it hasn't been without its share of controversy. A 2016 study claimed that watching the popular cartoon for long periods of time could stunt a child's emotional development and the show was also linked it to autism. The show has also been accused of encouraging fat-shaming as Peppa's regularly makes her bespectacled father the butt of 'big' jokes.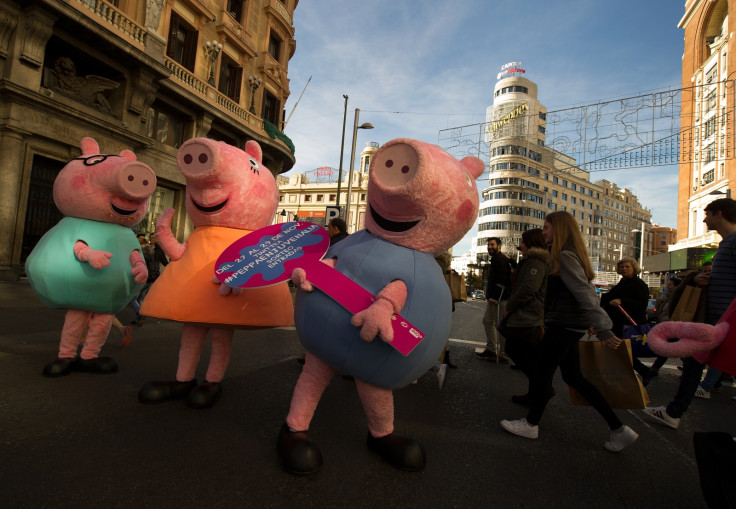 Rachel Andrew, a family psychologist says the five-minute episodes, which usually feature Peppa, her family and an ensemble cast of her friends, offers viewers a small snippet of family life.
Andrew doesn't agree with the notion that Peppa is a bad influence on young children, perceiving the central figure as sassy, strong willed character – a somewhat impossible thing to portray on the small screen. We must also remember that Peppa older cousin Chloe is also around to "bring her down to size".
"A lot of parents watching it can also buy into the idea of those family values at the core that it's promoting," Andrews says adding that the simplicity of the storytelling adds to the appeal. "George even uses the language of a very young child to Peppa who – in terms of her actions and her language – mimics an older sister."
Thanks to Peppa's on-screen presence, the colourful visuals and her signature oink, you'd struggle to find any pre-schooler who couldn't recognise her.
Elisa Neto from East London says her five-year-old daughter Nialise has been watching the four-time Bafta-winning cartoon since before she could walk and still tunes in for at least an hour a day.
"My baby that's 7months seems to enjoy it also as it's got bright colours and the voices are very clear for him to listen to."
The mother-of-two notes that her daughter fell in love with Peppa pig's personality, "the way she's brave and shines, the way she's talkative and has a best friend and also has a brother like herself that's younger."
Like many young fans of the Peppa, Nia's room is brimming with Peppa Pig memorabilia, her wardrobe is Peppa Pig-inspired and at least one trip to Peppa Pig World is deemed mandatory. "I think the show is very unique and Peppa has the same personality as my daughter, very bright and not shy and also she's a very good big sister to George around her friends."
It's 'made for children, by children' appeal
But what is the secret to its success? Body language expert and psychologist Judi James pins it on the colour palette that children find so appealing.
"The special appeal though is that these cartoons look and sound almost as though they have been created by children for children. The cartoons are basic enough for small children to copy and the voices sound like kids their own age," she says
"Children also love things that are slightly rude and the piggy noises would make them giggle.
"The impression of being made by kids for kids is hugely appealing and even confidence-boosting for small children. It works at exactly their own level which would give feelings of involvement and even empowerment at an early age."
Mumsnet editor Kate Williams adds: "Peppa is a British institution, and Mumsnet users – usually after consuming several series on heavy rotation while half-asleep – frequently discuss the pigs' menu choices, leisure pursuits and (most of all) their relationship dynamics. For adults and children alike, the genuine humour seems to be key to its success, with both groups finding it hilarious, albeit for slightly different reasons."
© Copyright IBTimes 2023. All rights reserved.