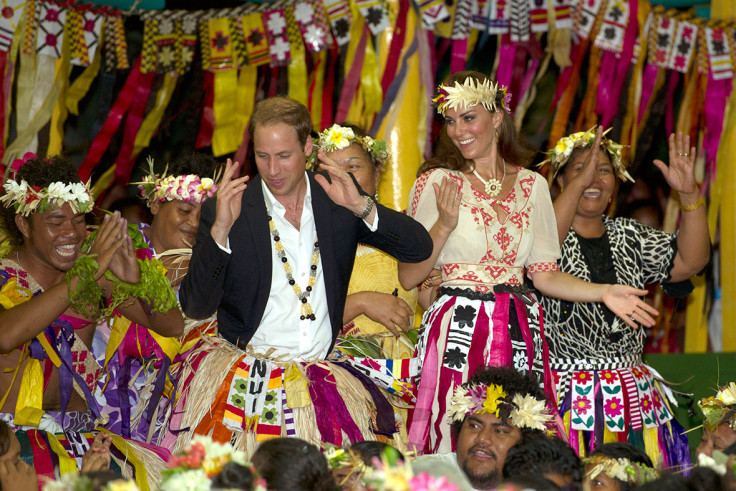 The Duke and Duchess of Cambridge are reportedly receiving the highest award from the South Pacific island nation of Tuvalu, simply for paying a visit there.
Kate and William are set to be invited to an investiture in London where they will each receive the Tuvalu Order of Merit in recognition of their 2012 visit to the Polynesian nation of nine tiny islands. The combined population of the nation is 11,200 which is spread over 10 square miles.
The royal couple touched down on the idyllic Polynesian island – the world's fourth-smallest country – in 2012 and wore garlands of flowers on their heads like crowns before a tour and dancing with islanders into the night.
Upon their visit as part of an Asia and the Pacific tour to mark the Queen's Diamond Jubilee, Prince William said: "We are very delighted to be here. Your wonderful welcome has to be the most original and quite literally uplifting ever. We will both remember it and the joy and happiness of what has followed for the rest of our lives."
And it appears that the country have taken the royal's words and actions very seriously. According to the Daily Express, Tuvalu's honorary consul in London, Dr Iftikhar Ayaz, confirmed that the couple are now being honoured in appreciation of the happiness that their visit brought to the tiny island.
He said: "Whenever they have been reminded about it, they have expressed great affection and love for the country. They had a lovely time there. They will remember that visit for a very long time."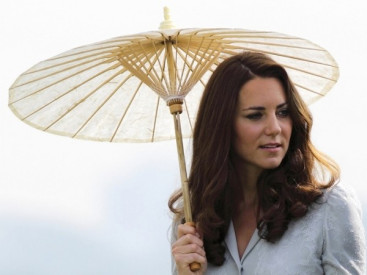 The award ceremony is said to be held soon in a London hotel or at the Commonwealth Secretariat offices in the capital – as long as the Commonwealth Secretary General Baroness Scotland gives permission.
He said: "I have written to the Queen's private secretary, Sir Christopher Geidt, asking if he will present the Duke and Duchess with the medals."
According to Ayaz, the Order of Merit is the country's highest award and is part of a new honours system set up last year as a mark of independence from Britain's twice-yearly awards which honoured people in Tuvalu.
A Kensington Palace official has said that the royal couple are honoured to be receiving the Order of Merit.
Tuvalu is an independent island nation within the British Commonwealth, midway between Hawaii and Australia. A referendum was held in December 1974 to determine whether the Gilbert Islands and Ellice Islands should each have their own administration. As a result of the referendum, the Gilbert and Ellice Islands colony ceased to exist on 1 January 1976. Soon after, the separate British colonies of Kiribati and Tuvalu came into existence.