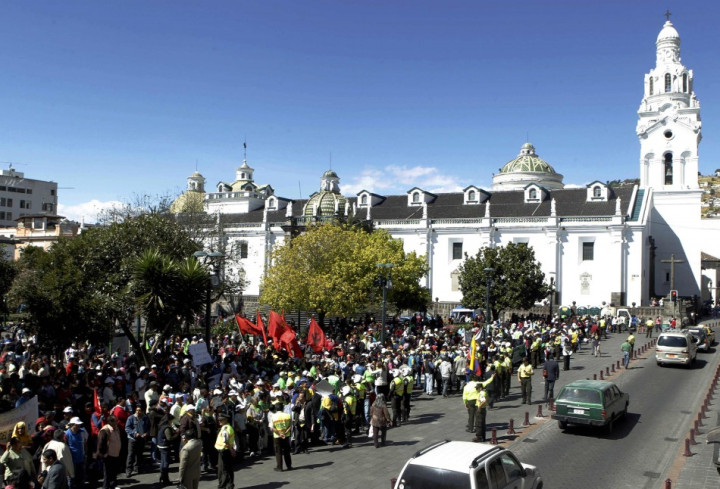 Storming the Ecuadorian embassy in London to apprehend Wikileaks founder Julian Assange would be "suicide" for the UK, Ecuadorian president Rafael Correa has said.
Discussing his country's decision to grant political asylum to Assange on state television, Correa said: "While the United Kingdom hasn't retracted or apologised, the danger still exists."
Asked whether he thought the UK would storm the embassy, Correa, a staunch supporter of Wikileaks and an admirer of Assange, said such an action would be "a suicide for Great Britain because then people could enter their diplomatic premises all around the world and they wouldn't be able to say a thing.
"It will be a precedent that would allow for the diplomatic premises of (the UK) in other territories to be violated in every corner of the planet."
While Correa hinted at taking the dispute to the International Court of Justice if no resolution can be found, he expressed the hope that Britain and Ecuador can work out their differences amicably without the need for external mediation.
"We're states with responsible governments that can negotiate directly about this problem. We have always been open to negotiations with the British and Swedish governments."
Within Ecuador hundreds of protesters gathered to demonstrate their support for Assange. Experts feel Correa could ride the popular wave on the asylum issue to get re-elected as president.
Reports suggest Ecuadorians are outraged by Britain's alleged threat to storm the embassy despite Foreign Secretary William Hague making it clear that British police would not do so.
"We're here to support the timely and correct decision to grant asylum to Julian Assange and also to reject the hostile reaction of Great Britain in cahoots with United States," Betty Wanda, one of the demonstrators outside the presidential palace in Quito, told Reuters. Mild protests were also seen outside the British embassy.
Critics of Correa, however, say he is using the issue to cover up his own failings. They accuse him of masquerading as a champion of freedom of expression when it is severely curtailed inside Ecuador where dissenting writers and journalists are imprisoned.