Wikipedia's founder Jimmy Wales has refused to allow "true scientific discourse" about holistic healing on the free online encyclopedia, calling alternative medicine practitioners "lunatic charlatans".
Wales' harsh words are a riposte to a Change.org petition started by the Association for Comprehensive Energy Psychology (ACEP), a global non-profit organisation based in Pennsylvania.
The petition was started three months ago and currently has over 7,800 signatures, with each signatory pledging not to donate to the Wikipedia foundation until the rules have been changed.
The ACEP strives to "establish the credibility and efficacy of energy psychology methods", and is petitioning Wales to change Wikipedia's rules so that "misinformation" about holistic approaches to healing may be corrected.
The organisation says that the Wikipedia pages relating to Energy Medicine, Energy Psychology, and specific approaches such as the Emotional Freedom Techniques, Thought Field Therapy and the Tapas Acupressure Technique are all biased due to Wikipedia's pages being controlled by "a few self-appointed sceptics".
Biased articles
The ACEP even goes so far as to cite Larry Sanger, Wikipedia's co-founder who left the project in 2002 due to his opinion that Wikipedia lacked credibility.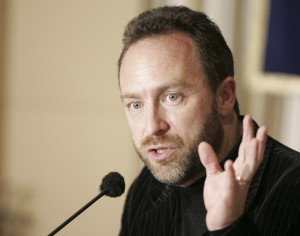 "In some fields and some topics, there are groups who 'squat' on articles and insist on making them reflect their own specific biases. There is no credible mechanism to approve versions of articles," Sanger said.
However, Wales has finally responded to the petition and definitely won't be changing how things work.
He commented on the petition page: "No, you have to be kidding me. Every single person who signed this petition needs to go back to check their premises and think harder about what it means to be honest, factual, truthful.
"Wikipedia's policies around this kind of thing are exactly spot-on and correct. If you can get your work published in respectable scientific journals - that is to say, if you can produce evidence through replicable scientific experiments, then Wikipedia will cover it appropriately.
"What we won't do is pretend that the work of lunatic charlatans is the equivalent of 'true scientific discourse'. It isn't."
Peer-reviewed research
The Change.org petition page also carries numerous comments from signatories who have refuted Wales' claims.
"This research has been repeatedly published in respectable scientific journals. Attempts to update the Wikipedia page to reflect these findings have been continuously deleted," says Debby Vajda, from Oregon.
"The editors responsible have offered an arcane and ever-changing list of excuses why peer-reviewed research published in American Psychological Association and other professional journals simply isn't good enough for Wikipedia."
Dr William Milligan, in North Carolina, says: "As a retired Family physician who has studied medical Qi Gong and Eden Energy Medicine, I have seen results using energy medicine that have not been possible with standard allopathic medicine.These include acute inflammatory conditions (costochondritis) and minimising side effects of patients undergoing chemotherapy."