The Israeli Embassy has not confirmed whether President Trump will visit Yad Vashem during his tour of Israel later this month amid mounting speculation that he may not pay his respects at the Holocaust memorial – usually a customary stop for foreign leaders visiting Israel.
If the President does not lay a wreath at the 45-acre tribute to the six million Jews killed by the Nazis he will break tradition with his three predecessors and scores of other world leaders.
After speculation in the Israeli media that Trump may not visit the Jerusalem site, within easy reach of other stops on his 22-23 May trip, IBTimes UK asked the Israeli Embassy in London whether he would be visiting.
"We are not commenting on the agenda of the visit at this point in time," the embassy said.
The White House have not responded to questions regarding Trump's itinerary inside the Jewish state.
Presidents Clinton, George W. Bush and Obama each attended the huge complex, which houses a remembrance hall, synagogue, research facility and much else, during their visits to Israel.
The list of other notable visitors is vast and includes Angela Merkel, Nelson Mandela, Putin and Prince Philip; it is incredibly rare for a world leader or dignitary to visit the Jewish homeland without stopping by.
Israel Channel 2 reported earlier this week that Trump would enjoy a busy two day sojourn to Israel, including a trip to the Waling Wall with his daughter Ivanka and son-in-law cum adviser Jared Kushner.
A tour of to Yad Vashem was pencilled in for the 22 May, intriguingly referred to as a "possible visit" – the only disclaimer of its kind on the agenda.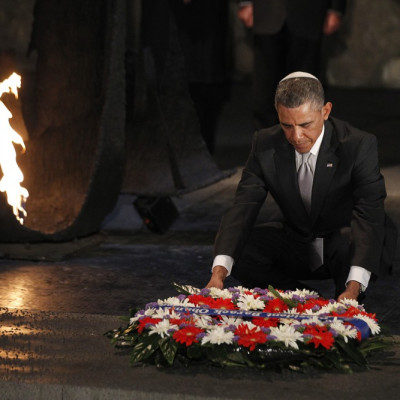 Trump has been beleaguered by suggestions of anti-Semitism despite his daughter converting to Judaism after marrying Jared Kushner, a son-in-law the President clearly approves of as he has made him a senior adviser with a wide-reaching portfolio.
Trump was criticised in January this year when he marked Holocaust Remembrance Day with a statement that made no actual reference to the Jewish people.
That omission came after he controversially appointed Steve Bannon as a Presidential aide. Bannon is a founding member of Breitbart News – a far-right outlet that is popular with Trump's supporter base.
Trump will meet with Israeli Prime Minister Benjamin Netanyahu and Palestinian Leader Mahmoud Abbas during the trip in an attempt to re-energise the stalled Middle Eastern peace process.