A golf match in South Africa was interrupted by an enormous snake calmly making its way across the middle of the fairway.
The 3.5m (11.5ft) South African rock python was filmed by stunned players on the 8th hole of the Zimbali Golf Course in KwaZulu-Natal on Tuesday (9 May).
After watching the snake drift by, one of the golfers ill-advisedly tried to grab it by the tail, causing it to jolt in self defence and hurry away towards the trees.
Nick Evans, founder of the KwaZulu-Natal Amphibian and Reptile Conservation, told IBTimes UK he was "jealous" when he saw the footage, which he shared on the group's Facebook page.
Evans, who had to to postpone his interview with us because he was "looking for two black mambas", said that snakes in the region were "very misunderstood".
Commenting on the video, he said: "He [the python] was just minding his own business. He was more in danger than they were. If you walk towards them they will go the other way."
Evans's conservation group works with schools and businesses in the area to educate people about reptiles and amphibians. He insisted that snakes will only attack humans as a last resort of self defence.
"I run after them and corner them but they have never charged at me," he said, before admitting that he had "had some close calls – but only because I'm pushing it."
The rock python is becoming increasingly scarce in South Africa as they are killed for alternative medicines and sometimes for their meat.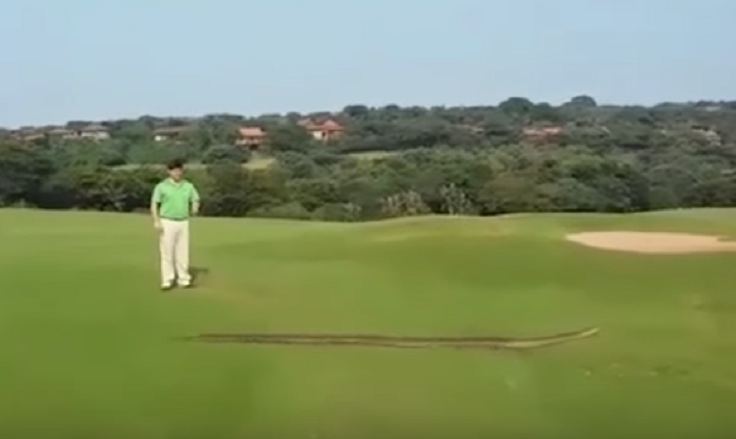 Evans said it was "very unusual" to see such giant specimens on the golf course despite it being situated in an eco-space with plenty of ponds and bushes.
The largest rock pythons are reported to have grown as long as 6m. They kill their prey – including antelopes and occasionally crocodiles – by constricting them.
Despite not being poisonous, Evans warned against making them feel threatened, saying: "They can bite and that bite will do you some damage – even though they're not venomous they have rows of sharp teeth."