Global markets are bracing for the important US jobs report, due at 12:30 GMT.
The payroll change figure has been topping market estimates for the past five months, and similarly the unemployment rate, for the past three months.
The July payroll addition and unemployment numbers are in the limelight after a big surprise in the US GDP data and a Fed rate review that followed showed caution on the health of the labour market recovery.
The June payroll addition was at a four-year high of 288,000 when analysts were expecting a drop to 212,000 from 224,000 in May.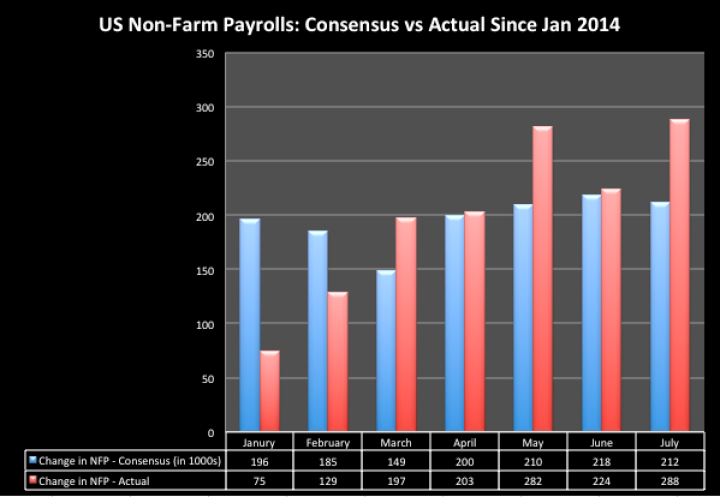 The unemployment rate fell to a near six-year low of 6.1% in June.
The market consensus for July is a drop in the employment addition to 233,000 and a steady unemployment rate.
Analysts say that even if the number surprises on the lower side, it will be taken positive if it remains above 200,000. It has been above that mark from the March reading, published on 4 April.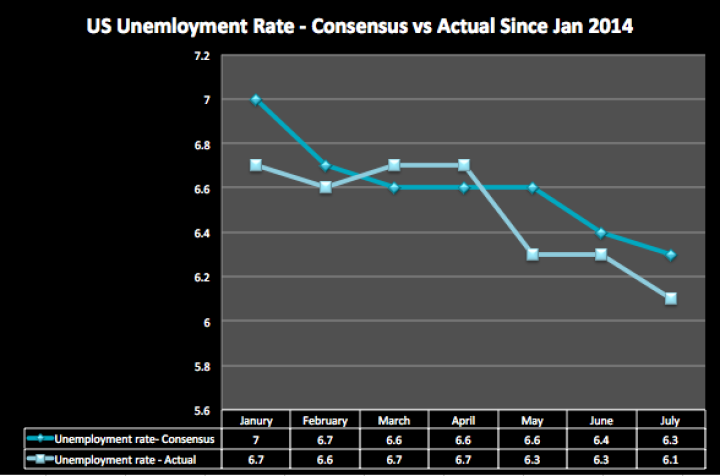 Other Job Market Indicators
There were four weekly jobless claims, an ADP employment and a Challenger jobs cuts data after the 4 July non-farm payrolls release.
In the first three weeks of July, initial jobless claims were lower than market forecasts but it has disappointed by posting an above-consensus figure in the week to 25 July.
ADP employment data released on 30 July also came on the negative side with a lower than expected addition of 218,000 in July when analysts were expecting a moderate drop to 230,000 from 281,000 in June.
Corporate layoffs in the US, as measured by Challenger, Grey & Christmas, rose to 46,887 in July from 31,434 in June, data on 31 July showed.
Fed Concerns
The FOMC policy statement released on Wednesday showed that while the world's largest economy is showing increased confidence about its growth performance, worries about the job market recovery are still weighing on the sentiment.
"Information received since the Federal Open Market Committee met in June indicates that growth in economic activity rebounded in the second quarter. Labour market conditions improved, with the unemployment rate declining further," the Fed said.
"However, a range of labour market indicators suggests that there remains significant underutilisation of labour resources."
The dollar index, the gauge that measures greenback's strength against six currencies on a trade-weighted basis, rallied to 81.57 on 31 July, its highest since mid-September 2013, and about 2.2% higher in the month.
It had eased to 81.45 towards the close on Thursday but has bounced back to 81.53 on Friday, suggesting the market is expecting more dollar-positive signals from the US.