Wenger Promises Walcott and Wilshere Will Not Leave Arsenal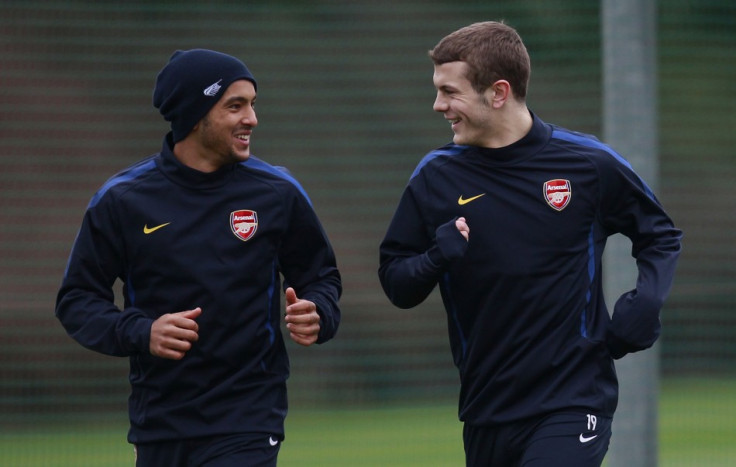 Arsenal boss Arsene Wenger has assured supporters the club's stable financial position will not force them into selling further star names including Theo Walcott and Jack Wilshere.
In order to balance the books following the completion of the £390m Emirates Stadium in 2006 Wenger has been required to sell several first-team players including former captains Cesc Fabregas and Robin van Persie.
The successive sales have contributed to a trophy-drought stretching back to 2005 and has seen The Gunners consigned to battling for a Champions League place rather than challenging for the Premier League title.
Chief executive Ivan Gazidis confirmed earlier this summer that Arsenal now have the financial clout to compete for the best and most expensive players in the world in the transfer market, and while the club have only added Yaya Sanogo on a free transfer from Auxerre, Wenger says fiscal stability will ensure there will be no further high profile sales.
"What happened for years was the quality of our work has been taken away from us because the best players left for financial reasons," Wenger said.
"For the first time this year that has not happened and I don't think it will happen again for financial reasons. We have made the first step. The next step is to strengthen the squad and the team by buying the right players."
The declaration is a huge boost to Arsenal fans who feared that the future of the likes of Walcott, who only signed a new contract last January, and Wilshere, who was tipped to be a future England captain by Steven Gerrard in mid-week, would be compromised by a lack of recent silverware.
Barcelona full-back Dani Alves called for the Catalans to move for Wilshere in February. His display against Barca in the Champions League in 2011 earned rave reviews and his style of play and acute passing ability has seen parallels drawn with that of the La Liga champions.
Wenger has been forced into allaying fears that the club's star names could leave following a summer transfer window which has seen few new additions despite assurances the club would splash out in an attempt to close the gap to champions Manchester United.
The Frenchman has heeded most of the criticism for a lack of spending, but feels such an assessment is unwarranted given the market's current state.
"Why should I resist (spending)? I just defend the idea that you spend the money you have and not the money you don't have," the Arsenal manager added. "For years I did that. Today we have more so we can spend more. It's as simple as that.
If you bring me tomorrow players who are better than those we have, I promise you we will look at them. It's as simple as that. You cannot say that Wilshere is a super player and then ask why you do not buy better player than him?
"The issue is that the club sometimes does not want to sell at any price. In the example of Suarez and you are Liverpool, you have to calculate if you want to get into the Champions League, who are our rivals and do we want to sell to them?
"Unless they need the money or they have a clause or things like that, things are not always working just because you put the money up."
© Copyright IBTimes 2023. All rights reserved.